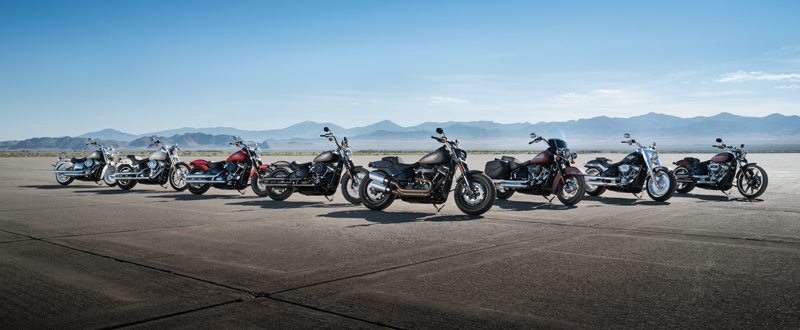 When's the last time you rode and evaluated 20 different bikes in one day? More to the point, we're talking about 10 brand-new bikes engineered from the ground up, along with another 10 previous-generation counterparts brought along for comparison purposes.
In all likelihood, you've never done anything close to that, right? Well, join the club because neither had I—and I started road testing bikes way back in the 1970s. So all in all, this sneak peek was a Very Big Deal, an event made bigger given that it was Harley-Davidson setting loose an exclusive club of 10 international motojournalists to experience firsthand this engineering tour de force—an accomplishment it calls "the most extensive research and development program in the company's history."
By folding Harley's former twin-shock Dyna line into this new solo-shock Softail family, Harley creates eight distinctly different, drawing-board-fresh cruisers sharing common yet adaptable chassis architecture. All models come loaded with either a 107ci (1,746cc) or 114ci (1,868cc) next-gen Milwaukee-Eight V-Twin—terrific engines both, featuring oil-cooled heads. The Deluxe, Slim, Low Rider and Street Bob models can be had with only the 107ci mill, while Heritage Classic, Breakout, Fat Bob and Fat Boy buyers can choose between either engine.
Thanks to two vibration-quelling engine counterbalancers, these engines mount rigidly in-frame to help create lighter and stiffer rolling chassis that yield a readily apparent advancement in overall handling, steering response and ground clearance. Most models weigh around 30 pounds less than before and there's lots of the typical potato-potato engine feel Harley owners prize so dearly. Yet engine vibes never felt bothersome during our short sampling. H-D touts a 60-percent increase in frame stiffness over the 2017 Softail models and a 35-percent gain in overall chassis stiffness, and those figures seem very credible following our brief rides. The frames come in narrow or wide versions—the latter necessary for the huge 240mm rear tire on the Fat Boy and Breakout. Steering head angles are set at 28 degrees, 30 degrees or 34 degrees depending upon each model's specifically intended look and ride feel, and the fork triple-trees within the steering head also vary in offset angle and width, thereby creating a remarkably wide range of decidedly different stances and performance envelopes.
Showa suspension components front and rear offer first-rate performance as well. Despite their traditional Harley-Davidson look, all forks incorporate new Showa Dual Bending Valve (SDBV) technology developed in conjunction with Showa for these specific machines, and the single-shock rear suspension setup, which is hidden beneath the seat, retains the classic "hardtail" look while delivering improved damping performance, increased travel, added spring preload range and improved comfort. Depending on the model, shock spring preload can be changed easily via one of three ways: an under-seat on-shock collar, under-seat socket or an external adjustment knob on some models.
Understand that Harley-Davidson engineers must have a devil of a time incorporating forward-thinking advancements while being charged first and foremost with retaining the traditional look, sound and feel of what a Milwaukee Big Twin is all about. So while this new generation of bikes looks similar to its predecessors, even with our brief rides we found every 2018 model performs head-and-shoulders above its 2017 counterpart.
The Harley team reserved nearby Blackhawk Farms Raceway, about 90 minutes outside of Milwaukee, to stage this covert, our-lips-are-sealed-until-August-22 ride. Naturally, we wouldn't be racing; rather, the track could be secured from prying eyes and the closed course also allowed a riding schedule that would see us journalists shuffling (quickly!) between 20 bikes in succession: first the older model, followed by a ride on the corresponding 2018 bike for comparison. It was a masterful job of organization, achieved by a small army of H-D engineers—most of whom had never seen all eight models together despite months and months of work focused on their assigned machine. This was a debut of sorts for them too. We rode only two laps aboard the new bikes on the 1.95-mile, 7-turn circuit, and a couple of rain showers cut into our riding time so we rode but a single lap aboard some of the older models. Brief as it was, the experience clearly outlined some concrete first impressions as follows.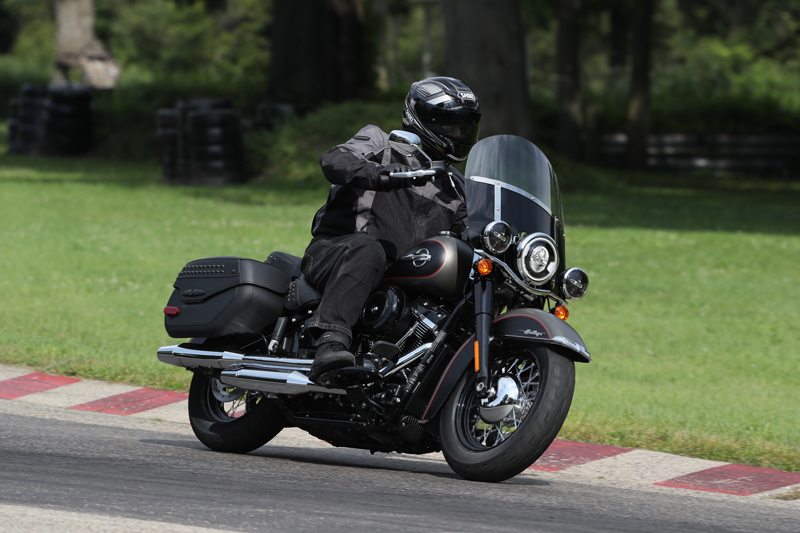 Heritage Classic (starting at $18,999)
This light-touring model remains exceedingly popular, with a reported 250,000 units on the road today. Tall suspension, a new detachable windshield and new lockable, water-resistant rigid saddlebags make this all-around bike a better option than ever. The standard-issue rider floorboards still steal some cornering clearance, but like all 2018 models the Heritage Classic delivers impressive gains in lean angle, chassis rigidity, steering response and feedback, and power. While offered with either the 107 or 114 engines, our sample sported the 107 version, which pulled much stronger and longer than the older 103 (1,688cc) powerplant, which felt as though it was running out of breath up the front straight. Fuel metering and clutch/gearbox action were flawless. It feels very neutral in a corner; you can pick it up and change lines with no drama. The rider triangle is well suited to all-around use, but we may have detected a bit of wind buffeting in the helmet are from air curling back behind the windshield. We definitely need to get out on the open road aboard this big guy.
Fat Bob (starting at $16,999)
Harley had both the 107 and 114 Fat Bobs at the track, and they set my imagination on fire. The cartridge-style, upside-down 43mm fork with SDBV technology and dual front disc brakes signal that this is the most sport-oriented of the bunch, and that's backed up with the tightest steering rake of 28 degrees and the shortest wheelbase at 63.6 inches. These bad boys really put out too; they feel very sporty and nimble with good cornering clearance and neutral ergonomics. On both, the front end feels well planted, yet steering is so responsive that turn-in happens with the speed of thought and mid-corner transitions come just as easily. The dual disc brakes up front are strong and linear in action, with very good feel. Those distinctive tires are new Dunlop D429s developed for this bike. Especially in 114 guise, the Fat Bob is a fun and fine sporting standard that will be great for trolling back roads; it's a fully armed Q-ship that can catch many sportbike riders unawares if you're up to the task. At day's end we had a little bit of extra track time, so I rode the Fat Bob 114 again. Just for grins. And I was glad I did.
Fat Boy (starting at $18,999)
The Fat Boy is an icon of sorts, the prototypical-looking muscle bike. To add to the aura and eye candy, the 2018 model now sports a fat 160mm front tire to complement the huge 240mm rear tire—together they present a styling statement too big to miss. Harley engineers worked directly with Michelin engineers to develop this big front tire, the first of its kind. However, this singular look comes with a price: steering is quite slow, the bike is a bit reluctant to turn in and has to be guided throughout the turn. That makes it less confidence inspiring at speed in turns, so just slow down and enjoy the cruise because the 107 and 114 engines will give you plenty to smile about.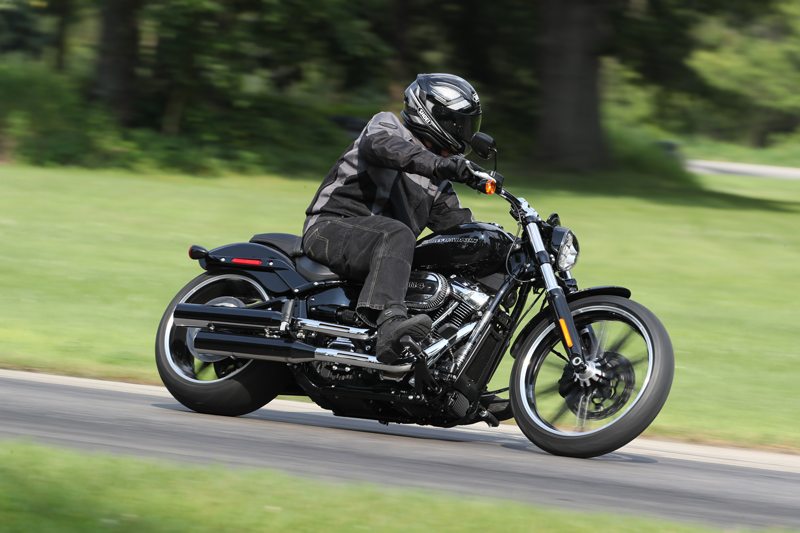 Breakout (starting at $18,999)
The Breakout likewise sports a 240mm rear, but the 130/21 front tire makes turn-in and right/left turn transitions much easier than on the Fat Boy or the older 2017 Breakout. The bike goes where you tell it to go, although it needs continued bar pressure to keep on line once you're in the turn. That's to be expected with a bike with 34 degrees of rake, part of the price you pay for the committed cruiser look. Still, in either 107 or 114 trim the Breakout rides and feels like the quintessential cruiser, and both engines provide vivid improvements over the respective 103ci and 110ci predecessors. I started the day on the Breakout 107, so I revisited it during "free ride" time at the end of the day to reconfirm how well it works even with the big 240 rear tire.
Deluxe (starting at $17,999)
If bling is your thing, the Deluxe is definitely the way to go. Tons of chrome and wide whitewalls advertise that fact loudly. Beneath the "hey, look at me" stuff there's a big, comfy motorcycle with all-around capabilities. The contrast between the 107 engine and the older 103 seemed especially pronounced when riding this pair. Again, although the floorboards touch down earlier than straight footpegs, the new Deluxe provides substantially more lean angle than older models.
Softail Slim (starting at $15,899)
The Softail Slim serves as a styling counterpoint to the Deluxe with its bobber looks and blacked-out finish. It's 35 pounds lighter than the previous generation and steering feels much quicker compared to the older bike, and the front end feels more planted. Its seat height of 26 inches is the lowest among all of these cruisers, making this the prime choice for riders with short inseams. This is a nice middle-of-the-road choice among the eight new models.
Low Rider (starting at $14,999)
A mainstay in the former Dyna line, the Low Rider has made a very successful transition for 2018. With its low and traditional '70s custom chopper look, it makes a fine starting point for those who want to tweak its appearance. The mid-mount pegs scrape more easily than any other rider-peg setup, but there's definitely more lean angle than before. There's only a 5-pound weight savings between this new model and the 2017 version, but overall handling is much improved. The 107 engine likewise provides substantially more performance compared to the prior model too.
Street Bob (starting at $14,499)
This former Dyna model is the most affordable within this group of cruisers, but it offers its own unique personality. Credit the blackout treatment, 3.5-gallon "peanut" tank, rubber fork gaiters, mid-mount pegs and mini-ape handlebar that create a distinctive visage. The ergos on this bike aim the rider toward relaxed cruising rather than aggressive riding; it's a natural fit. However, once again the 107 really shines through compared to the older model.
Harley-Davidson has jumped full force into the future with its all-new line of Softail cruisers. As claimed, steering, handling and engine performance are all elevated significantly when compared to prior iterations. Yes, we had limited seat time on each bike, but we appreciated the opportunity to compare new and old models directly. Yes, it was a brain drain, noting the many differences, taking notes, keeping track of what was what and who was who. But this very telling day at the track provided compelling evidence that Harley-Davidson's efforts will change its customers' riding experience for the better. Next, we need to get on some of these bikes and head out on the open road.
SaveSave
SaveSave
SaveSave