You really get to know a motorcycle when you ride it all day, every day, for an entire week. Long hours in the saddle give you plenty of time to contemplate what works and what doesn't. After two days of riding the new BMW K 1600 B in the mountains and foothills near Asheville, North Carolina, during the press launch, I spent the next five days riding it through 14 states on my way home to California. Riding the K 1600 B from sunrise to sunset for several days in a row made its virtues and faults abundantly clear.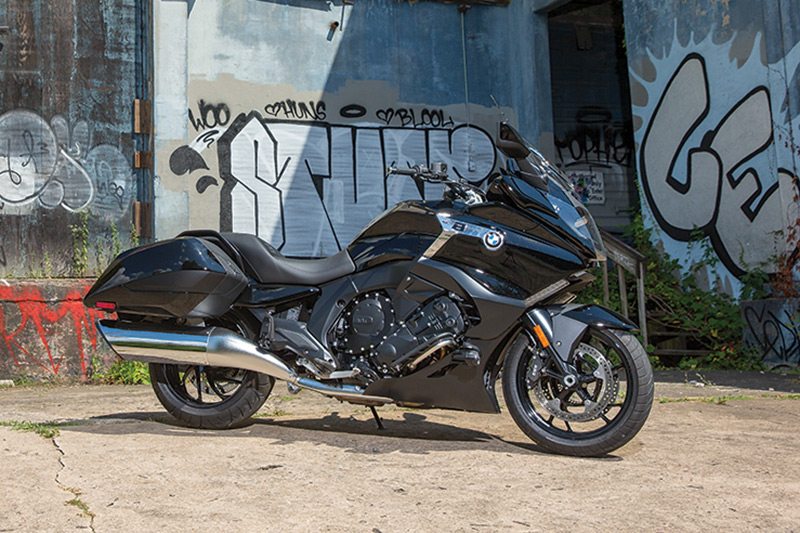 During that weeklong, 3,500-mile odyssey, the impeccable smoothness of the K 1600 B's perfectly balanced, turbine-like in-line six-cylinder engine was indeed a virtue. With cruise control set at the 75 to 80 mph speed limits that prevail on Interstate 70 across wide-open stretches of Kansas, Colorado and Utah, the mirrors remained crystal-clear, there was barely any vibration and the bike felt as stable—and as fast—as a bullet train. I was grateful that, with the windscreen set at just the right height, airflow around my head was smooth and quiet, the seat was all-day, day-after-day supportive and the riding position created no pain points. I also enjoyed the convenience of thumbing buttons or spinning the Multi-Controller wheel to change riding modes and suspension settings, dial up heat for the grips and seat, check tire pressure, raise or lower the windscreen and much more. And every time I toe-tapped rapid-fire, clutchless upshifts while accelerating hard out of a corner, I almost forgot I was riding a bagger.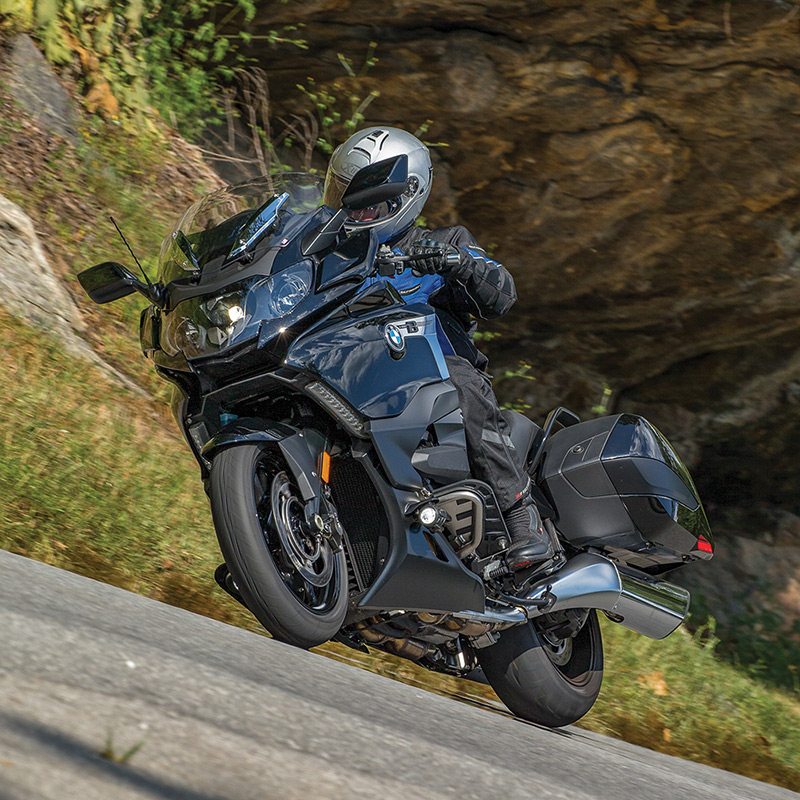 Wait—a bagger wearing the BMW roundel? That's right. Inspired by the Concept 101, a 2015 design study by Roland Sands and BMW Motorrad, the K 1600 B is a bagger based on the K 1600 GT sport tourer that won Rider's Motorcycle of the Year award in 2012. Alas, the Concept 101's wooden accent panels didn't make it into production, but much of the K 1600 B is faithful to the original. Compared to the GT, the B has a shorter windscreen, a tubular handlebar, longer, narrower saddlebags with integrated LED taillights and howitzer-like chrome mufflers that are horizontal instead of angled upward. To give the K 1600 B the appropriate bagger profile, the rear subframe and passenger seat were lowered by 2.8 inches, and a new rear fender folds up for easier removal of the rear wheel. The rider's seat height is 30.7 inches vs. 31.9/32.7 inches on the GT, and a no-cost optional seat is just 29.5 inches. Suspension travel is also lower on the bagger, but there's still 4.5/4.9 inches front and rear.
Beneath the Black Storm metallic bodywork is the same liquid-cooled, 1,649cc in-line six-cylinder engine with DOHC, four valves per cylinder and a 12.2:1 compression ratio that powers the K 1600 GT. With a narrow 72mm bore (stroke is 67.5mm) and cylinder sleeves spaced just 5mm apart, the engine isn't much wider than an in-line four. Perfect primary and secondary balance eliminates the need for counterbalancers and the cylinders are canted forward 55 degrees to lower the center of gravity, put more weight on the front wheel and allow the rails of the aluminum alloy bridge-type frame to pass over rather than around the engine. Even though the K 1600 platform (which includes the B, GT and GTL) has been made Euro4 compliant, BMW claims that engine output is unchanged from previous model years: 160 horsepower at 7,750 rpm and 129 lb-ft of torque at 5,250 rpm in Dynamic and Road modes, and 147 horsepower and 122 lb-ft of torque in Rain mode (measured at the crank). When we put the K 1600 B on Jett Tuning's dyno, however, it produced lower than expected horsepower and torque at the rear wheel with irregularly shaped dyno curves, as compared to the last K 1600 GT we tested in 2013. Some motorcycles electronically limit engine output when the front wheel is immobilized but the rear wheel is spinning rapidly, as is the case during dyno runs, and such a restriction may have been incorporated into the K 1600's engine management software. We contacted BMW Motorrad to inquire about this, but we did not receive a response before going to press. We'll follow up in the near future.
Out of the dyno room and on the road, on the other hand, the K 1600 B feels unimpeded, spinning up rapidly and sending ample power to the rear wheel through a 6-speed transmission and shaft final drive. Lots of torque is on tap even at low rpm and response from the throttle-by-wire is precise, though there's some lag on inital throttle opening that takes some getting used to. Other than a supercar-like, high-revving whine under hard acceleration, the engine and exhaust are very quiet—too quiet, really, for a bagger (BMW should have had the same engineer who designed the R nineT's growling exhaust take a crack at this one). There's some heavy engine braking in lower gears, but otherwise this big in-line six feels like the heart of a thoroughbred.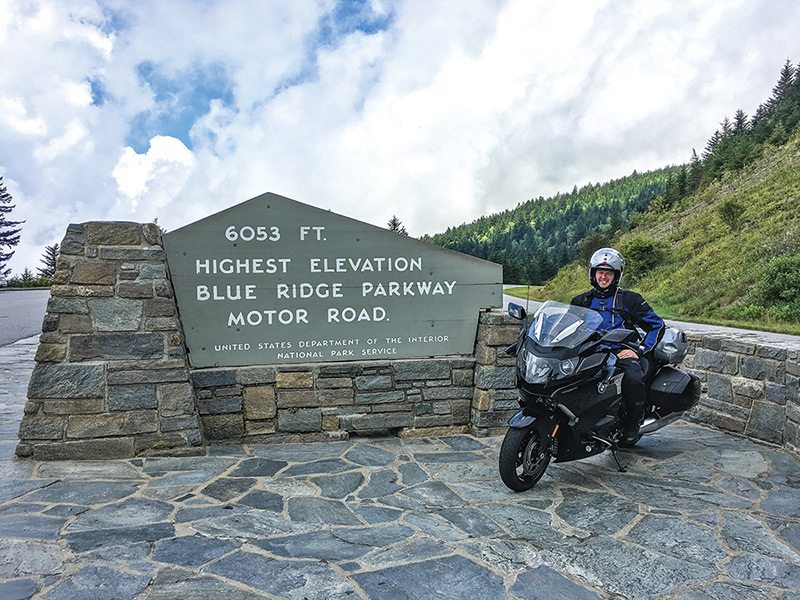 Being based on a high-tech, high-performance sport tourer, the K 1600 B is likewise laden with state-of-the-art technology. Standard equipment includes riding modes (Dynamic, Road and Rain) that automatically adjust throttle response, torque output and intervention by the lean angle-adaptive Dynamic Traction Control, and ABS Pro is similarly optimized for cornering. Dynamic ESA (Electronic Suspension Adjustment) has two modes—Road for all conditions and Cruise for softer compliance—that automatically adjust damping. Other standard features include self-leveling xenon headlights, heated grips and seat, cruise control, the Multi-Controller, an onboard computer and dual power sockets. Our test bike also included the Premium and Touring packages, adding central saddlebag locks, auxiliary LED lights, an anti-theft alarm, a tire pressure monitoring system, the Adaptive Headlight that points into corners, Hill Start Control, Gear Shift Assistant Pro for clutchless shifting up and down, Keyless Ride, Bluetooth, an audio system and GPS preparation. There's also Reverse Assist, which uses a worm gear that runs off the starter motor to provide low-speed reverse to assist with parking (up to a maximum gradient of 7 percent).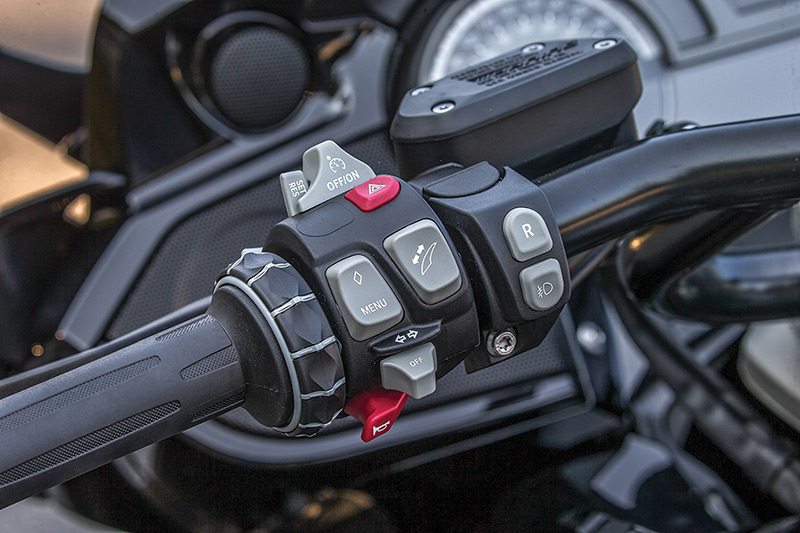 That may sound like a lot of bells and whistles, but everything is nicely integrated with an intuitive bike-rider interface. In terms of infotainment, the Sirius satellite radio subscription hadn't been activated, and I didn't bother pairing my iPhone via Bluetooth. Listening to music blaring out of external speakers while I'm going down the freeway at 75 mph wearing earplugs isn't my thing. But I've used the audio system on the K 1600 GT and it works fine. Our bike also did not include the accessory BMW Navigator VI GPS ($999), which drops into a slot on the top of the dash and is easily controlled via the Multi-Controller, which works great on other BMWs we've tested.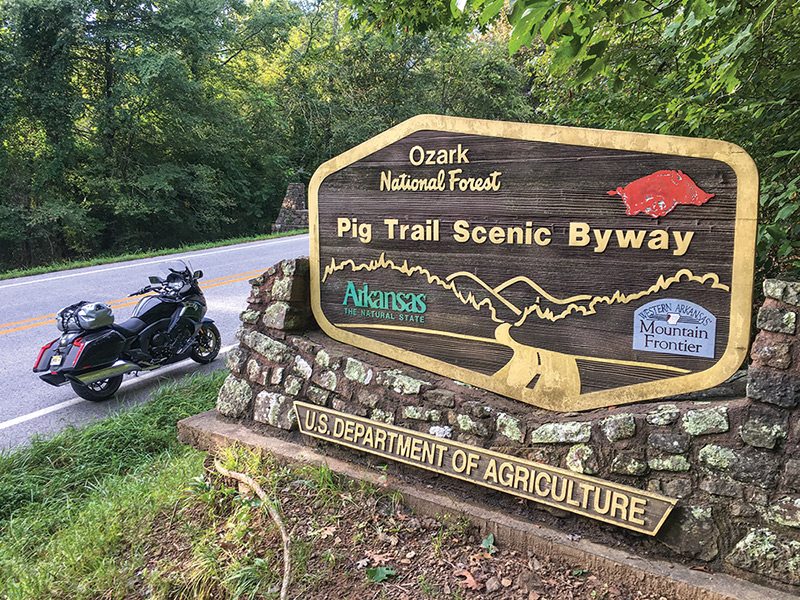 Not surprisingly, the K 1600 B attacks corners like a sport tourer. In the hollers and gaps of the Appalachian and Ozark mountains, the big bagger felt nimble and well planted, its Bridgestone Battlax BT022 sport-touring tires providing tenacious grip. Despite my best efforts, on only a few occasions did the peg feelers scrape the ground. The massive brakes scrub off speed easily yet also provide subtle feel at the lever. And the Dynamic ESA keeps the chassis stable and the tires in contact with the ground, absorbing the worst of beat-up back road pavement and even the whoop-like frost heaves around Summit Lake on the road up to the top of Colorado's Mount Evans.
Two of the K 1600 B's features are strokes of genius, both of which debuted on the K 1600 GT/GTL in 2012. One is the Multi-Controller wheel on the left hand grip, which makes it so easy to scroll through menus and make changes that riders are much more likely to take advantage of the many available settings. The other is the air deflector winglets on either side of the front fairing, which can be rotated outward to direct airflow into the cockpit. These are the sort of details that elevate a motorcycle from good to great, making the lives of touring riders much easier. On cold mornings, I kept the winglets closed, raised the windscreen and used the Multi-Controller to turn on heating for the grips and seat. As the day warmed, I turned off the heating, rotated the winglets outward to allow more airflow and lowered the windscreen. The windscreen, which has stepless height adjustment, caused no buffeting though in the lowest position there's quite a bit of wind noise.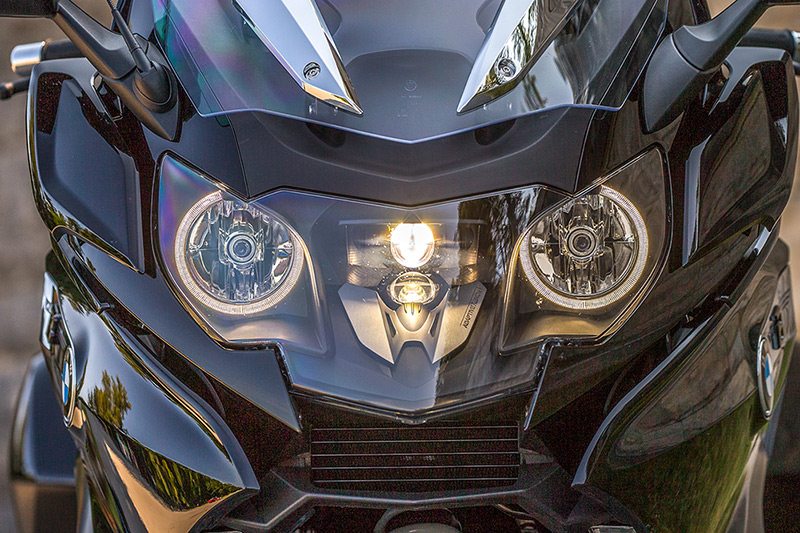 The accessory floorboards, which replace the small locking storage compartments on the K 1600 GT and require the accessory engine protection bars for installation, also won me over. They're really "highway boards" since they provide a second, more forward position for your feet, which must be on the pegs to use the foot controls. With long hours in the saddle, the floorboards allowed me to stretch out my legs, change my knee and hip angles, and move around on the seat.
For my cross-country ride, I loaded both saddlebags and strapped a big, waterproof duffel to the passenger seat. The K 1600 B's saddlebags are not removable, and they have shallower lids but are longer than those on the GT, offering the same 37 liters of storage but with a different shape. Inside the left bag is the release lever for the seat, and inside the right bag is a removable pouch and a USB port/micro jack for plugging in a smartphone or other media devices. Also good for touring is the big, 7-gallon gas tank. My fuel mileage wasn't the best because I either had the hammer down or was scuffing the sides of the tires on tight curves.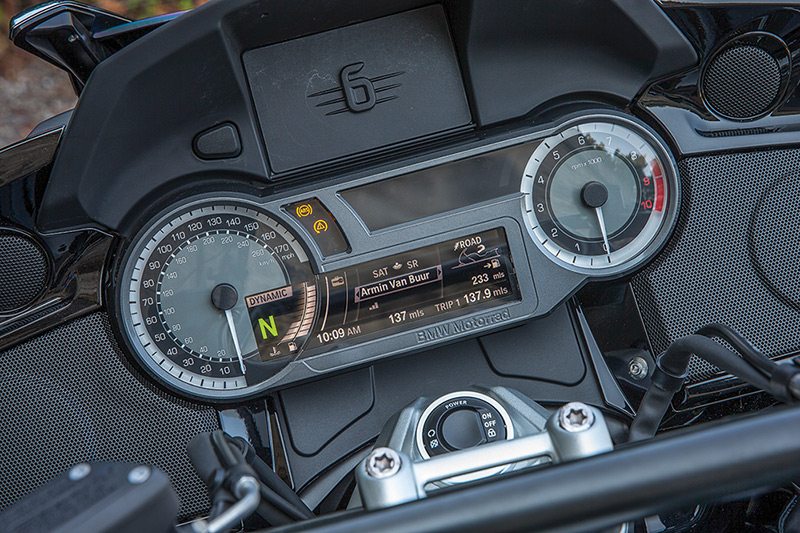 Both of my complaints about the K 1600 B have to do with temperature. The part of my view that never changed was the cockpit. The 5.7-inch, full-color TFT display has crisp, easy-to-read graphics, and what information is shown is customizable. I always like to see the ambient temperature gauge, but I'm not sure why the K 1600 B (and other BMWs we've tested) shows temperature in tenths of a degree when temperature changes are given in odd, 0.9-degree increments. Riding across the Mojave Desert, the temperature crept up from 112.1 to 113.0 to 113.9 degrees, where it stayed for a while, and then finally topped out at 114.8. Minor, I know, but long hours of riding encourage such nitpicking obsessions.
The other complaint was an isolated incident. On the first day of the press ride we got stuck in bumper-to-bumper traffic for over an hour on a hot, humid day, and after a while my feet started to roast and the engine temperature gauge spiked, changing from white to red and flashing a warning symbol. The bike never overheated, but it was uncomfortably hot until we got moving again. After that, engine heat was never an issue, even after riding in 105-plus degree temperatures for six straight hours while crossing the Mojave, often going slowly through Vegas-to-LA traffic on I-15.
Subjected to a 3,500-mile torture test in a wide range of conditions—including 14,130 feet of elevation at the top of Mount Evans and hours of scorching temperatures in the desert—the K 1600 B passed with flying colors. There are so many ways in which riding a motorcycle this far in such a short amount of time could have made me miserable, but there was nothing about it that made me want to get off before the day was over or dread the next long day in the saddle. If you want rumble and heritage, then the K 1600 B clearly isn't for you. But if you want a bagger that will ride circles around every other bagger, has class-leading performance and technology, and has all the comfort and convenience you need for the long haul, then your stallion awaits.
2018 BMW K 1600 B Specs
Base Price: $19,995
Price as Tested: $24,390 (Premium and Touring packages, engine protection bars, floorboards)
Warranty: 3 yrs., 36,000 miles
Website: bmwmotorcycles.com
ENGINE
Type: Liquid-cooled, transverse in-line six
Displacement: 1,649cc
Bore x Stroke: 72.0 x 67.5mm
Compression Ratio: 12.2:1
Valve Train: DOHC, 4 valves per cyl.
Valve Insp. Interval: Varies, computer monitored
Fuel Delivery: BMS-X EFI, 52mm throttle bodies x 6
Lubrication System: Dry sump, 4.75-qt. cap.
Transmission: 6-speed, hydraulically actuated wet clutch
Final Drive: Shaft, 2.75:1
ELECTRICAL
Ignition: BMS-X computer controlled
Charging Output: 700 watts max.
Battery: 12V 19AH
CHASSIS
Frame: Cast-aluminum-alloy twin-spar main frame w/ engine as stressed member & aluminum subframe; cast-aluminum Paralever single-sided swingarm
Wheelbase: 63.7 in.
Rake/Trail: 27.8 degrees/4.2 in.
Seat Height: 30.7 in.; optional low seat: 29.5 in.
Suspension, Front: BMW Duolever w/ Dynamic ESA, 4.5-in. travel
Rear: BMW Paralever w/ single shock & Dynamic ESA, 4.9-in. travel
Brakes, Front: Dual floating 320mm discs w/ opposed 4-piston calipers & ABS Pro
Rear: Single 320mm disc w/ 2-piston pin-slide caliper & ABS Pro
Wheels, Front: Cast, 3.50 x 17 in.
Rear: Cast, 6.00 x 17 in.
Tires, Front: 120/70-ZR17
Rear: 190/55-ZR17
Wet Weight: 770 lbs. (as tested)
Load Capacity: 465 lbs. (as tested)
GVWR: 1,235 lbs.
PERFORMANCE
Fuel Capacity: 7.0 gals., last 1.0 gal. warning light on
MPG: 89 PON min. (high/avg/low) 33.8/37.7/43.5
Estimated Range: 264 miles
Indicated RPM at 60 MPH: 2,750
Greg's Gear
Helmet: X-Lite X-1004
Jacket: Tour Master Intake
Pants: Firstgear HT Air
Boots: Tour Master Epic Air