Today's "trike" is not just a trike. Variants include everything from traditional units with two driven wheels at the back of a conventional motorcycle, to bolt-on kits that add two outboard rear wheels to the existing two for stability, and to newer design translations that place two steerable wheels forward and one driven wheel aft. The Prowler RT from Motor Trike is an innovative example of the latter, what's known as a "reverse trike" design (thus the "RT" designation) that is unquestionably eye catching and an engineering wonder.
The Prowler RT is a conversion for the ubiquitous Honda GL 1800 Gold Wing. The kit swaps the conventional motorcycle front end with a dual-wheel setup featuring full independent front suspension. Designed as a bolt-on arrangement, there is no fabrication required; the integrity of the motorcycle is retained. A large, easy-access trunk between the front wheels provides more than eight cubic feet of storage—that's in addition to the Gold Wing's generous saddlebags and tour trunk (according to Motor Trike head honcho Jeff Vey, the three most requested trike attributes are exceptional handling, smooth ride and superior trunk design. Check, check and check).
If you like to blend in, the RT isn't for you. Its futuristic look turned heads everywhere I went. Be ready to answer questions from, well, just about everybody. When people pull off the highway just so they can take pictures of the thing, that's a pretty good indication the Motor Trike folks are onto something here.
Unlike other reverse trikes I've ridden that rely extensively on electronics to control handling, the Prowler has no electronic assist—it's all mechanical engineering. That means that feedback is direct and never vague, giving the rider a true connectedness with the pavement. If I'm to be picky, the tradeoff is that nearly all road irregularities can be felt through the handlebars. Otherwise, it's tight, predictable and controllable. And, while steering is not exactly what I'd call "light," it's certainly manageable and lower effort than I expected, especially for such a substantial rig (the Prowler RT weighs a hair under 1,150 pounds). The only time all of that mechanical weight is truly felt is at very slow speeds, when steering is quite heavy. Adding a touch of throttle makes things easier. Speaking of throttle, unlike some reverse trikes, the Prowler lets the rider (instead of a computer) decide how much throttle is allowed in corners. Personally, I like that approach.
Typically, riders have their own Gold Wing converted by Motor Trike. The Prowler RT conversion fits all GL1800 models dating back to 2001. From the website, customers are guided to the Motor Trike dealer nearest them (there are 200-plus dealers in the U.S.) where they can coordinate conversion of their Gold Wing by the factory. Each RT conversion is made to order, installed on the customer's Gold Wing and shipped within three weeks. Cost for the conversion, including installation, is $10,000. Each Prowler RT has a 3-year/60,000-mile factory warranty.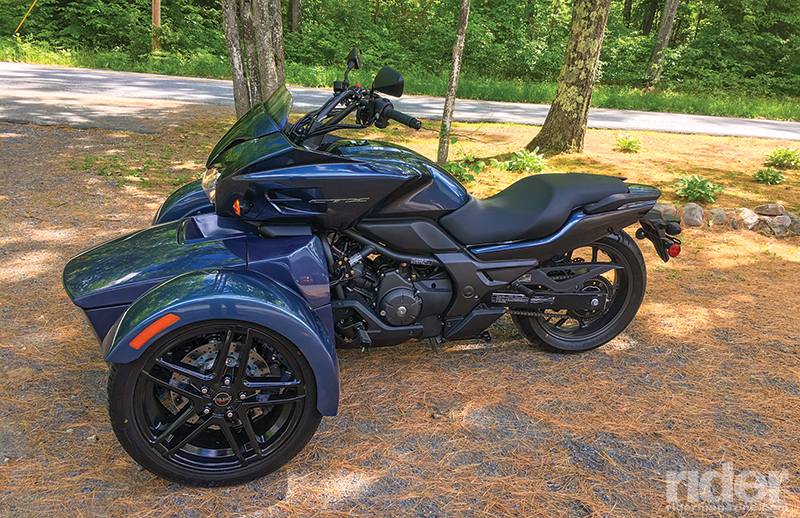 Motor Trike has become a significant player in the trike space. All of their products, including the RT, are developed and built entirely in-house, within its 100,000 square-foot facility with more than 80 employees (all of them "motorcycle people," according to company leadership).
So, which is better, a front wheel or rear wheel trike configuration?  Jeff Vey says, "It's Almond Joy or Mounds. It's all a matter of taste." All I know is that the Prowler RT is a pretty sweet setup that was a treat to ride.