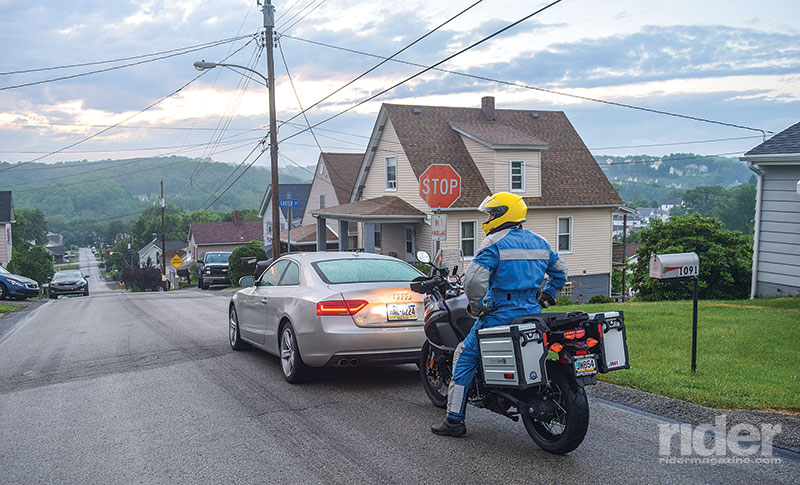 Back in the days of the legendary Hurt Report (1981), a.k.a. the Motorcycle Accident Cause Factors and Identification of Countermeasures technical report, the incidence of rear-end collisions was vastly underrepresented. Riders simply weren't being struck from behind back then. Then came cell phones and texting. Now, being hit from behind by a distracted driver is a growing concern for motorcyclists…and a compelling reason to find ways to avoid being a sitting Duc. Or Hog. Or Tiger.
In the new normal, drivers simply aren't paying enough attention. They aren't recognizing traffic slowing ahead until it's too late. Bad news when it's your butt that's next in line ahead. In addition to increasing your conspicuity with hi-viz clothing and products like brake light flashers, here are some recommendations we've integrated into our Stayin' Safe rider training program in response to the growing volume of distracted drivers.
Slow gradually. When you anticipate a changing traffic light or see a stop sign ahead, take your time getting there. Slow gradually instead of carrying speed to the intersection. You'll have a better chance of getting that distracted driver to slow down with you rather than relying on them to suddenly react to you. That way you'll also spend less time actually stopped and vulnerable. Once you do come to a standstill, maintain a "tactical ready" position, keeping the bike in gear, your hands on the controls and an eye to the mirror. Avoid stopping at the rear bumper of the car ahead. Instead, leave a space cushion that allows you to have a distinct escape.
As my dad used to say, "Don't just sit there. Do something!" Be aware of the idle threat of sitting in traffic, be ready with a plan and be poised to take action should the driver behind fail to slow.