Victory Motorcycles has worked hard to live up to its "Modern American Muscle" tagline. In the past few months, Victorys earned a 2nd place podium position at the Isle of Man TT in the electric bike class, were the 2nd and 3rd fastest motorcycles to climb Pikes Peak with the Empulse RR (electric) and Project 156 (gas) prototypes, completed a circumnavigation of the globe in record time with Urs "Grizzly" Pedraita riding a Cross Country Tour and set a Guinness World Record burnout with Joe "Vertical" Dryden aboard an Octane. With the smell of burned rubber still in the air, Victory has announced its 2017 motorcycle lineup.
2017 Victory Octane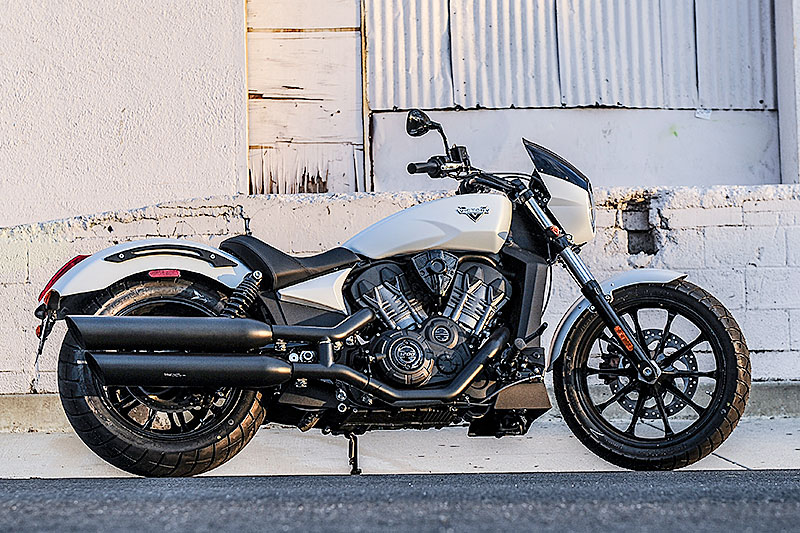 Sharing some DNA with its Polaris brother, the Indian Scout, the Victory Octane was introduced earlier this year, and it's powered by a liquid-cooled 60-degree V-twin with DOHC and 4 valves per cylinder that makes 104 horsepower and 76 lb-ft of torque at the crank (claimed). Stuffed in a lightweight, cast-aluminum frame, it has sporty steering geometry, a short wheelbase and 32 degrees of available lean angle. We rode this bad boy in Florida earlier this year, including some closed-course drag racing, gymkhana and burnouts, and it's a ripper. Step up to Victory's accessory Stage 2 Kit with air intake and 2-into-1 exhaust for 10-percent more horsepower and 5-percent more torque. Available in Gloss Black ($9,999), Matte Super Steel Gray ($10,499), Matte Pearl White ($10,499) and Gloss Black with Graphics ($10,499).
Read our Victory Octane review
2017 Victory Gunner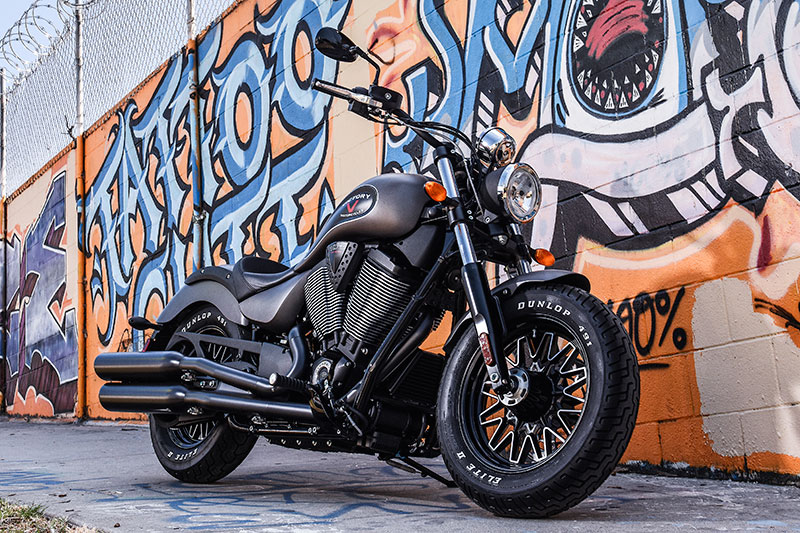 This modern interpretation of a classic bobber has a low, 25-inch saddle, pullback handlebars and a 106-cubic-inch air-cooled Freedom V-twin that belts out 110 lb-ft of torque (claimed). Available in Suede Titanium Metallic ($13,499) and Suede Sagebrush Green Metallic ($13,899).
Read our Victory Gunner review 
2017 Victory High-Ball
If you like your motorcycles stripped down and riding with your fists in the air, grab hold of the High-Ball's ape-hangers and hang on. Keep it simple with no radio, no radiator, no saddlebags, just Victory's 106-cubic-inch Freedom V-twin with 6-speed transmission rolling on 16-inch spoked alloy wheels. New for 2017, choose from Suede Black with black-wall tires ($13,499) or Suede Nuclear Sunset Orange ($13,749) with white-wall tires.
2017 Victory Hammer S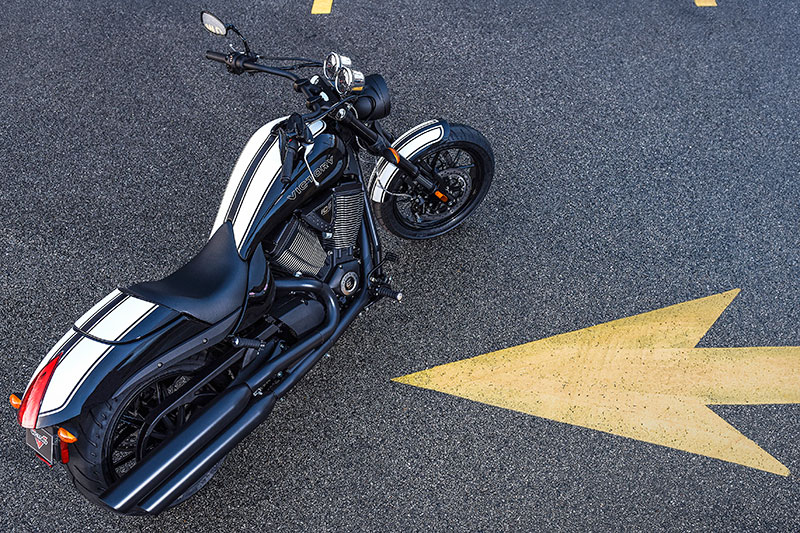 The Pro Street-styled Hammer S is the most aggressive cruiser in Victory's lineup. It's powered by the air-cooled Freedom 106 V-twin and features a beefy upside-down fork, 4-piston front brake calipers, an extra-wide 250-series rear tire, a low-profile rear cowl with a hidden passenger pad and muscle car-inspired racing stripes. Available in Gloss Black with White Racing Stripes ($15,599).
2017 Victory Vegas
With factory custom styling and Victory's powerful Freedom 106 V-twin, the Vegas can rock any boulevard, from The Strip to Main Street. It has a color-matched frame, a contrast-cut 21-inch Falchion front wheel, a tucked-in headlight, pullback handlebars, slash-cut muffler tips, a flush-mount LED taillight and blacked-out details. Available in Sunset Red ($13,999).
2017 Victory Vegas 8-Ball
Are you a night owl? The 8-Ball is a blacked-out (and less expensive) version of the Vegas. Less chrome, more attitude and just as much torque—a claimed 110 lb-ft from the Freedom 106 V-twin. Available in Gloss Black ($12,999).
2017 Victory Magnum
The Magnum is Victory's loud-n-proud bagger, with an attention-getting 21-inch front wheel, eye-catching LED headlight and paint job, and a block-rocking Bluetooth-enabled audio system blasting 100 watts from six speakers. Like most of Victory's lineup, it's powered by the air-cooled, 106-cubic-inch Freedom V-twin with a 6-speed transmission and belt final drive. The Magnum also features cruise control and ABS. Available in Gloss Black with graphics ($22,599), Habanero Inferno Orange with graphics ($23,099) and Indy Red Pearl with graphics ($23,099).
Read our Victory Magnum review
2017 Victory Magnum X-1
A limited-edition version of the Magnum, the X-1 cranks it up to 11 with a 200-watt, 10-speaker surround sound audio system, contrast-cut billet wheels, a custom paint scheme and LED lighting. Available in Pearl White with Platinum overlay and Electric Red pinstriping ($24,499).
2017 Victory Cross Country
When you hit the road on Victory's Cross Country bagger, you'll enjoy standard features like cruise control, Bluetooth-enabled audio and the Freedom 106 V-twin with a 6-speed transmission. An aluminum chassis, well-tuned suspension and dual front disc brakes with standard ABS make the Cross Country confidence-inspiring in the corners, and its lockable, waterproof saddlebags hold 21.3 gallons of your favorite stuff. Want more grunt? The accessory "Made For Victory By S&S" Stage 2 Kit, with S&S cams and a high-flow air dam plus a factory accessory exhaust system, offers 20-percent more horsepower and 10-percent more torque for Cross Country, Cross Country Tour and Magnum models. The Cross Country is available in Gloss Black ($19,499), Suede White Frost ($19,999), Suede Nuclear Sunset Orange ($19,999) and Sunset Red ($19,999).
Read our American baggers comparison review:
Harley-Davidson Street Glide Special vs Indian Chieftain vs Victory Cross Country
2017 Victory Cross Country Tour
Are you in the habit of chasing the horizon? Victory's Cross Country Tour adds fairing lowers (with storage compartments and adjustable vents) and a top trunk, increasing total luggage capacity to 41.1 gallons—said to be the most of any production touring motorcycle. You and your passenger will also enjoy the 200-watt, eight-speaker Bluetooth and USB audio system, padded passenger backrest, three-position adjustable floorboards and dual-zone heated seats. ABS and new LED lighting are standard equipment. Available in Gloss Black ($21,999), Gloss Blue Fire ($22,499) and Two-tone Turbo Silver and Black ($22,999).
Read our Victory Cross Country Tour review
2017 Victory Vision Tour
It has a unique look that isn't for everyone, but if you embrace the Vision Tour you'll enjoy one of the most comfortable and best handling touring bikes on the market. Its full-coverage, wind-tunnel-sculpted fairing provides top-notch comfort and protection. And because the fairing is mounted to the frame and not the handlebars, steering remains light and predictable. Underneath is the same solid platform found on all Victory baggers and tourers—a rigid cast aluminum frame, air-adjustable rear suspension and the air-cooled, Freedom 106 V-twin with a 6-speed transmission and belt final drive. The electric windscreen, ABS, cruise control, heated seat and grips, and 29 gallons of storage will keep you in comfort and control during the long haul. Available in Gloss Black ($21,099) and Gloss Blue Fire ($22,099).
Read our tour test review of the Victory Vision Tour
2017 Empulse TT
When Polaris acquired Brammo's electric motorcycle business, it made a few modifications to the Empulse, renamed it the Empulse TT (in a nod to Victory's success in the electric bike class at the Isle of Man TT) and added it to Victory's lineup. The Empulse TT has a top speed of more than 100 mph and features sport-tuned, adjustable suspension and a 6-speed gearbox. Available in Titanium Silver with Havasu Red ($19,999).
Read our Victory Empulse TT vs Zero SR electric bike comparison test review