Free spirits throw caution to the wind and hope everything works out. City slickers think their smartphone and a credit card will bail them out of whatever trouble may arise. But smart motorcycle travelers, those who have logged enough miles to learn that anything can go wrong, know that common-sense preparation goes a long way toward keeping you on the road when it does. These are the essential things we never leave home without.
1. A Good Map
The best motorcycle rides are about the journey rather than the destination. How you get there is more important than where you end up. We love spreading out maps before or during a tour to get the big picture and to identify good roads (the squigglier the line, the better!). Butler Motorcycle Maps provide descriptions and details for the best motorcycling roads in particular states or regions, and they've mapped out Backcountry Discovery Routes in several western states. Plus, they're made of waterproof/tear-resistant material.
Read our review of Butler Motorcycle Maps
2. GPS Navigation Unit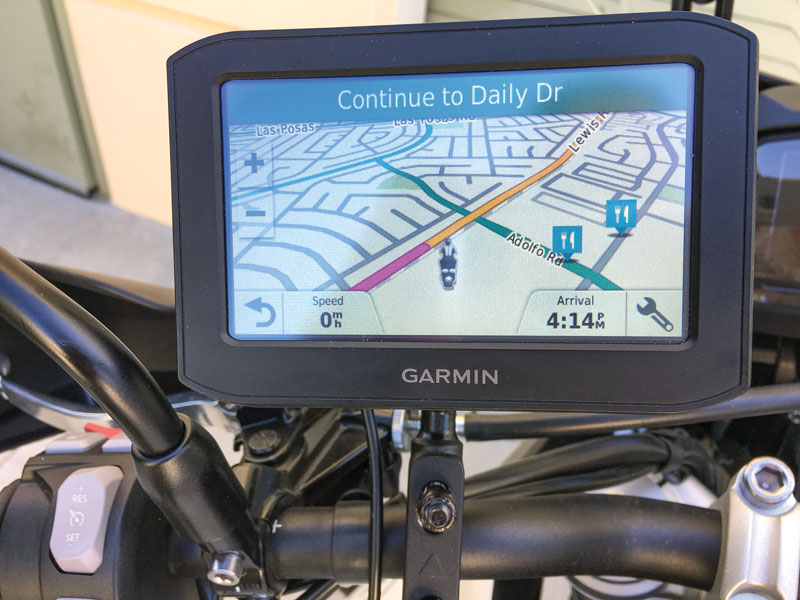 As much as we love maps, you can't look at them while riding, nor can you program in a ride route. Although smartphones are quickly replacing point-and-shoot cameras and navigation units, there's no substitute for a dedicated motorcycle-specific GPS, such as the TomTom Rider. It has a rugged, waterproof form factor and its buttons are glove-friendly. The TomTom also offers voice-guided navigation via Bluetooth (a helmet communicator is #3 on our list), map updates and trip-planning software. And when you need to find the nearest gas station or hotel, you can search for one even if you're out of cellphone range.
Read our review of the Garmin zumo 396LMT-S GPS
3. Bluetooth Helmet Communicator
Solitary time inside a helmet, with nothing but the sound of the wind and your engine to soothe you, can be very relaxing. But sometimes its nice to listen to your favorite tunes, to chat with your passenger or fellow rider(s) and to hear GPS navigation commands through helmet speakers. Today's Bluetooth helmet communicators, such as Cardo's scala rider Q3, are nothing short of incredible. They pair with multiple devices and transition seamlessly between different functions. We'd advise against taking cellphone calls while riding, and if you want to enjoy some peace-and-quiet, you can always hit the "off" button.
Read our review of the Cardo scala rider PackTalk Bluetooth Communicator
4. Emergency Communicator
A friend of ours crashed his BMW on a remote highway and got trapped under his bike with an injured leg. Out of cellphone range, he waited overnight for more than 18 hours until someone found him. Situations like that are why we carry the SPOT Gen3 GPS messenger, which communicates with satellites to determine your location anywhere on the globe and send messages to family and friends via text or email. In an emergency, hitting the "SOS" button notifies the GEOS Rescue Coordination Center, initiating a rescue effort by local personnel. Sending customized "I'm OK" messages when riding in far-flung areas provides peace of mind to loved ones, and non-emergency "I need help" messages pinpoint your location. The rugged, weatherproof, pocket-sized Gen3 ($149.99; service plans start at $199.99/year) is easy to use, and we love the optional Google Maps tracking function. Giant Loop's Tracker Packer firmly attaches the Gen3 device to your pack's shoulder strap, handlebars, fork tube, arm or other location.
Read our review of the SPOT Gen3 Satellite Personal Tracker
5. Motorcycle Towing Service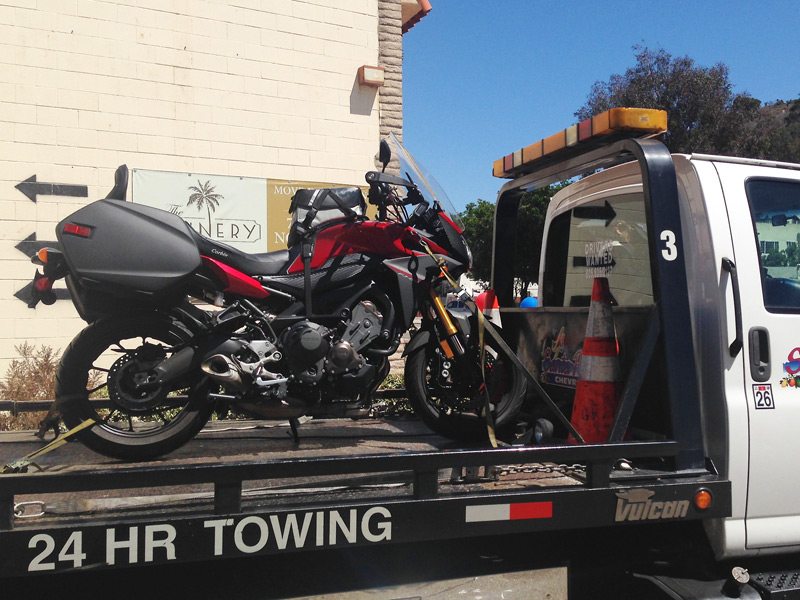 When I foolishly rolled over a curb in our Yamaha FJ-09 long-term test bike and ripped a hole in the oil pan, I was left stranded in a pool of hot, black motor oil. (Read our long-term reports on the Yamaha FJ-09.) Even though I was only a few miles from home, I didn't have access to a truck or trailer. So I pulled out my handy American Motorcyclist Association (AMA) membership card, turned it over and dialed the number of AMA Roadside Assistance, which is one of the many benefits of joining the AMA (roadside assistance is free if you sign up for automatic renewal of the $49 annual dues). Service is friendly and prompt, and it covers up to 35 miles of towing. Furthermore, your membership dues support the AMA's efforts to protect motorcyclists' rights—a cause we can all get behind.
Learn more about AMA Membership
6. Evacuation Insurance
When the excrement really hits the propeller, you may need to be evacuated to the nearest medical facility and, ultimately, back home. Depending on your insurance coverage, you could end up with a very costly transportation bill. Medical evacuation insurance can provide peace of mind for you and your loved ones, and potentially save you a pile of money. A good option is Medjet Assist, an annual membership program that provides domestic and global air-medical transportation and related services. Annual memberships start at $270 for individuals and $395 for families. Medjet Assist's Motorcycle Transfer Protection Program is a $35 add-on that will cover up to $3,500 to have your motorcycle transported to a dealership or shop of your choice.
Learn more about MedJet Assist
7. Flat Repair Kit
Modern motorcycle tires provide good grip in dry and wet conditions and typically last for thousands of miles. But all tires are vulnerable to cuts and punctures, and a flat can quickly bring your journey to a halt. If your motorcycle runs tubeless tires, a good flat repair kit can get you back on the road in no time. The Dynaplug Pro Tubeless Tire Repair Kit ($59.99 and up) allows you to make an on-the-spot, on-the-wheel repair. The compact, lightweight kit includes the Dynaplug Pro tool, eight tire repair plugs, three insertion tubes, an air stopper, a clearing attachment, a pipe cleaner and a handy polyethylene carrying case.
Read our review of the Dynaplug Pro Tubeless Tire Repair Kit
8. Portable Air Compressor
After you fix your flat tire, you'll need a way to reinflate it. (Or, if you're an adventure rider, you may need to pump your tires back up after airing-down for off-road riding.) Some flat-repair kits come with a few CO2 cartridges, but depending on the size of your tire, you probably won't have enough to get inflate it fully for safe operation (especially if some leaks out while trying to secure the adapter to the valve stem). The best way to reinflate your tire is to use a dedicated air compressor that connects to your motorcycle's battery, such as the Cycle Pump, a tried-and-true 12V compressor that's ruggedly built and compact enough to store in your motorcycle luggage.
Read our review of the Cycle Pump Motorcycle Air Compressor
9. Fuel Siphon
Another misadventure on motorcycle tours, especially if you're out in the boonies where fuel stops are few and far between, is running out of gas. Some adventure and dual-sport riders carry extra fuel in containers like those from RotopaX, but they require special mounting kits and don't make sense on cruisers or sport tourers. Another option is Aerostich's E-Z Fill Siphon ($27), a lightweight (just 4 oz.), easy-to-use fuel transfer system that doesn't require getting a mouthful of gas. Unroll and unkink the 68-inch siphon hose, insert the self-priming pump end into a non-empty gas tank, put the other end into the 1/8-gallon transferring container and then move the pump up and down a few times to get the fuel flowing. A handy stopper clip maintains flow even in the "off" position, so you can fill and refill the transfer container multiple times with ease. Everything fits inside the transfer container (10.1 × 2.6 × 1.25 inches) and includes a super-soak towel for cleaning up spills.
Learn more about the Aerostich EZ Fill Siphon
10. Motorcycle Toolkit
These days, many motorcycles have meager or nonexistent toolkits. On the road you may not be able to do extensive repairs, but you should be able to tighten a loose mirror and adjust your controls or suspension. CruzTOOLS makes specialized tools and toolkits for motorcyclists covering a wide range of applications, from specific brands such as Harley-Davidson and BMW to more universal kits. Two of our favorites are the DMX2 and RoadTech M3. Aimed at dual-sport/off-road riders, the 4.5-pound DMX2 packs essential tools into a durable, two-sided zippered pouch with an extra storage pocket (we added a siphon hose, tow strap and JB Weld), and it comes with a raincover and straps for mounting to an off-road-style front fender. The 3-pound RoadTech M3 is a compact, well-stocked tool roll for metric cruisers, sport tourers, etc. that we carry with us on road tests.
Read our review of the CruzTOOLS RoadTech M3 metric motorcycle toolkit
11. Rainsuit
As Rider contributor Jerry Smith wrote in Rainsuits 101: Staying Dry at Speed in the November 2015 issue, "Weather forecasting isn't an exact science, and you get caught in the rain even during the summer. If you keep riding through the fall and winter, you'll learn what real rain is. You might have ridden through short showers, but when you get caught in a sudden storm, or ride all day in a cold, steady drizzle, you'll see how valuable a good rainsuit is." It's one thing to be wet and it's another thing to be cold, but being cold and wet is the surest way to be miserable on a motorcycle tour, and it could lead to hypothermia, a potentially fatal condition. Pack a rainsuit whenever you ride and you'll always be ready for the unexpected. We recommend a two-piece rainsuit that can be packed easily in your motorcycle luggage, in a bright, high-viz color so you'll stick out like a sore thumb when visibility is poor. Waterproof gloves (#12) will keep your mitts dry and waterproof boots or slip-on rain boot covers will do the same for your feet.
Read Rainsuits 101: Staying Dry at Speed
12. Waterproof Gloves
In addition to a rainsuit, we always pack an extra pair of gloves. You never know when you might lose one over the edge of a scenic vista on a windy day (yes, it's happened to us) or they'll get stolen off your bike at a gas station (yep, that happened too). We often bring a thinner, perforated pair of gloves for hot weather and an insulated, waterproof pair of gloves for when the weather turns for the worse. Which is why we like the two-gloves-in-one design of Held's Air n Dry Gloves, where the lower compartment is like a classic summer glove and the upper compartment is lightly insulated and has a waterproof Gore-Tex liner. Even though they serve dual purposes, we still suggest bringing a back-up pair of gloves.
Read our review of Held's Air n Dry Gloves
13. Flip-up/Modular Helmet
We always wear full-coverage helmets because they provide total protection for the head and face. When out on a tour where you'll be stopping often to take photos, refuel or grab a quick snack or drink, you can't beat the convenience of a flip-up or modular helmet. Raising the chinbar exposes your face, which makes it easy to talk to friends, to the nice lady at the tollbooth or to the old timer who's giving you roundabout directions. Dab on sunblock (#15 on our list), drink water (#16), eat an energy bar or blow your nose without having to remove your helmet. Just remember, most flip-up helmets are not designed to have the chin bar raised when riding. One of our favorite flip-up helmets is the Shoei Neotec II, which is light, quiet, comfortable and has a drop-down sunshield.
Read our review of the Shoei Neotec II Modular Helmet
14. Bike- or Helmet-Mounted Video Camera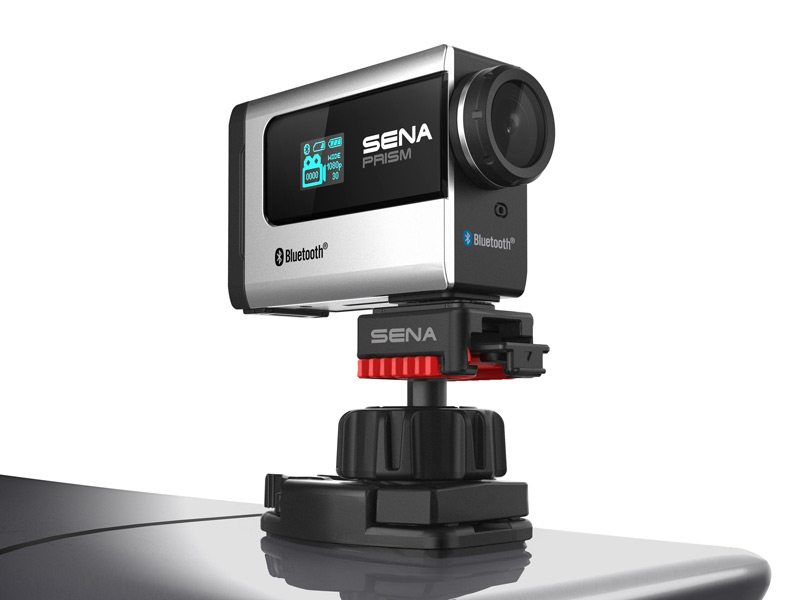 Capturing photos and video of your trip can be a great way to share the experience with family and friends, and to relive the experience months or years later. Over the past few years the market for bike- and helmet-mounted action cameras has exploded, with small, lightweight cameras capable of taking high-resolution photos and high-definition video. Sena's Prism Action Camera can be paired with a Sena (or other) Bluetooth communicator (#3 on our list) for recording live intercom audio with the built-in mic while capturing video. It comes with many mounting options and is available with a handlebar remote that controls all camera functions with a jog wheel.
Read our review of the Sena Prism Action Camera and Handlebar Remote
15. Sunblock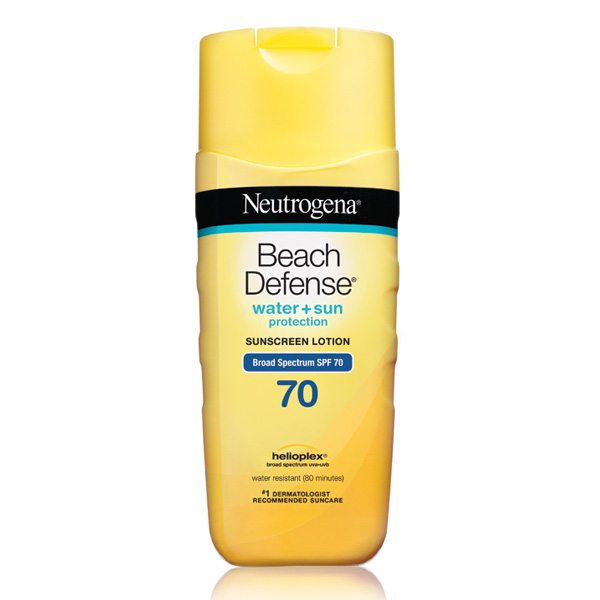 If you're like us and adhere to ATTGATT (All The Gear, All The Time), not much of your skin will be exposed to sun and wind during a ride. The most common exposed area is the neck, which can become sunburned easily during a long ride. But when you stop to take breaks and remove your helmet and jacket, especially at a high-elevation overlook where you'll want to stretch out and relax, your face and arms can get crispy in no time. Slather on a layer of sunblock in the morning before your ride and reapply as necessary. Dermatologists recommend using a sunscreen with an SPF of at least 30, which blocks 97 percent of the sun's rays. And it's a good idea to use sunscreen that is water- and sweat-resistant. We like Neutrogena Beach Defense because it has a pleasant smell and won't sting if it gets into your eyes.
Learn more about Neutrogena Beach Defense Sunscreen
16. Hydration Bladder or Backpack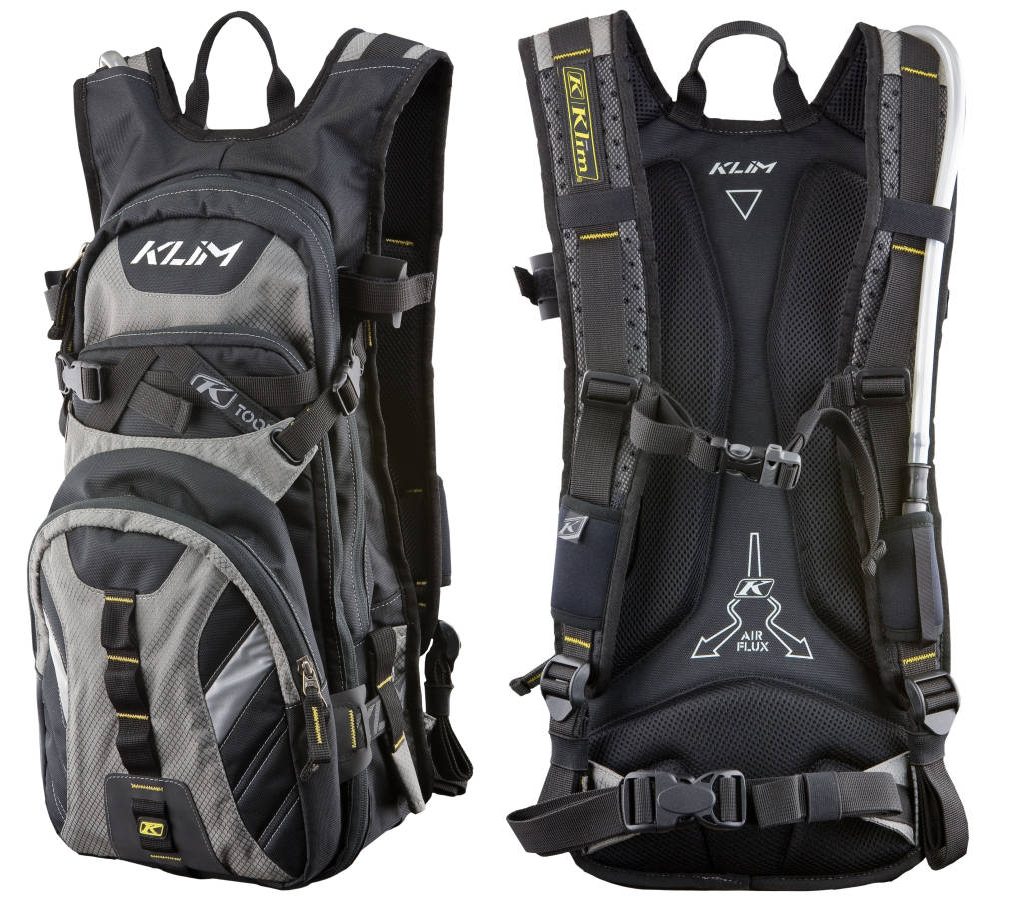 According to WebMD, heat exhaustion "is a heat-related illness that can occur after you've been exposed to high temperatures, and it often is accompanied by dehydration." Heat exhaustion can include water depletion and salt depletion, so you should drink plenty of water supplemented by sports drinks (to restore electrolytes lost through sweat) and salty snacks. The easiest way to drink water while riding is to wear a hydration backpack, which includes a water bladder and a drinking tube that can be used on the go, even with a full-face helmet. We've logged a lot of miles with Klim's Nac Pak ($99.99), which comes with a 3-liter Hydrapak bladder and multiple compartments for carrying snacks, tools (#10), maps (#1), sunblock (#15), a hat, etc. The Quench Pak ($79.99) uses the same high-capacity bladder but without all of the storage pockets.
Read our 10 Tips to Stay Cool on Hot Motorcycle Rides
17. Face Shield/Visor Cleaner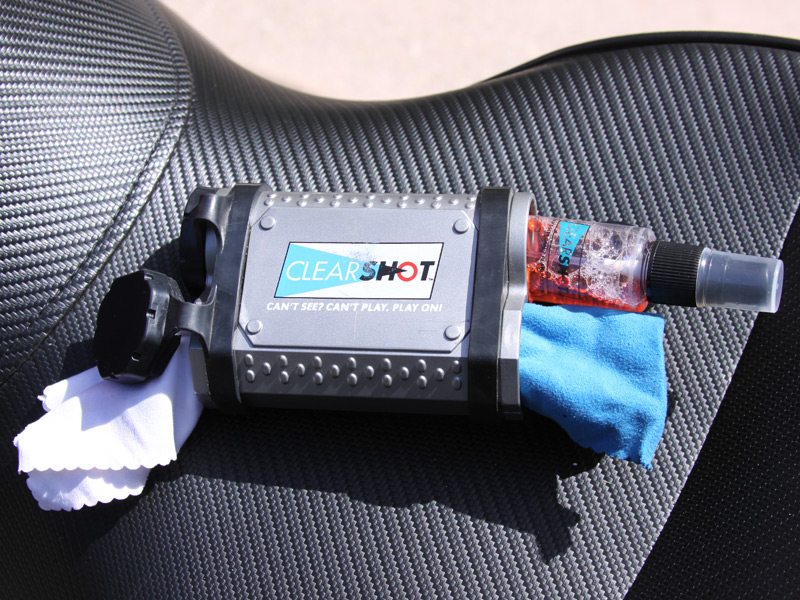 Bugs. Bird poop. Dust. Mud. Salt spray. When you cover long distances on a motorcycle, all kinds of stuff ends up on your face shield or visor, which can obscure your vision and create distractions. And if you ride at night, a dirty face shield can be downright dangerous. Whenever you stop, get in the habit of giving your face shield a quick polish. Paper towels can scratch them, and definitely don't use that skanky squeegee at the truck stop, which is embedded with all manner of grit and grime. Keep the Clear Shot Lens Cleaning Kit in your tank bag or saddlebag. It comes in a rugged, two-part container, with a small spray bottle of glass/lens cleaner in one side and two microfiber cloths in the other.
Read our review of the Clear Shot Lens Cleaning Kit
18. Spare Face Shield/Visor
If you use a tinted face shield or visor during the day, you'll want to carry a spare clear shield in case you end up riding at night. We generally avoid riding after dark, but traffic, a flat tire (#7) or other delays can leave you many miles from your destination when the sun goes down. It's also good to have a spare face shield in case your primary one gets badly scratched or damaged. We've tested the Bell Qualifier DLX full-face helmet, which comes with a Transitions SOLFX photochromic face shield that goes from clear to dark tint when exposed to bright light. The Transitions face shield is also available as an accessory for all Bell helmets that use its ClickRelease system, including the Star, Vortex, RS-1 and Revolver.
Read our review of the Bell Qualifier DLX Helmet
19. Motorcycle Owner's Manual and Spare Bike Key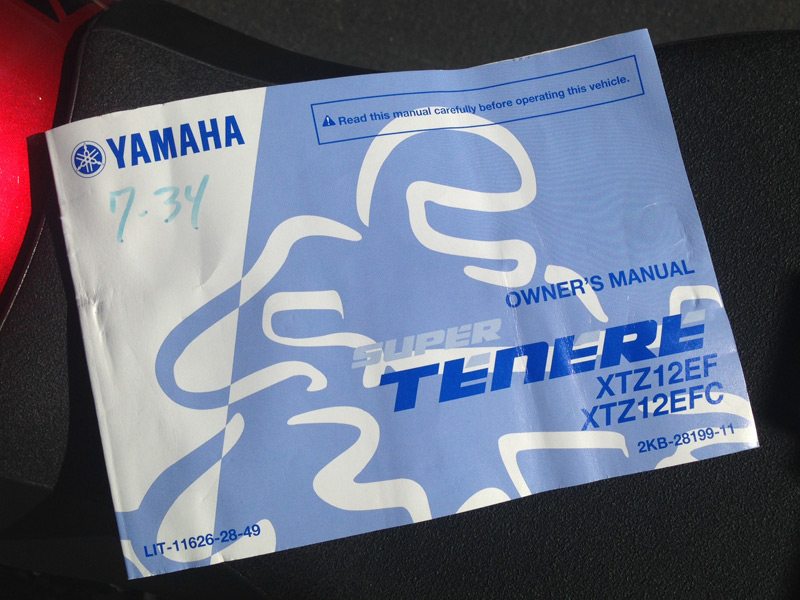 While it hardly makes for entertaining reading, keeping your motorcycle owner's manual on the bike and being familiar with its contents can be very helpful. It stops well short of being a comprehensive service manual, but it contains valuable information about routine maintenance, load capacity, electrical system charging output, proper tire inflation (see #8), making adjustments to the suspension and controls, and much more. We also recommend carrying a spare bike key with you in case your main key falls down a storm drain, breaks off in a saddlebag, goes missing at your campsite or gets lost inside the liner of your riding pants (yes, all of these have happened to us). Store the spare key in a safe place, such as a chain around your neck like a set of dog tags.
20. Tank Bag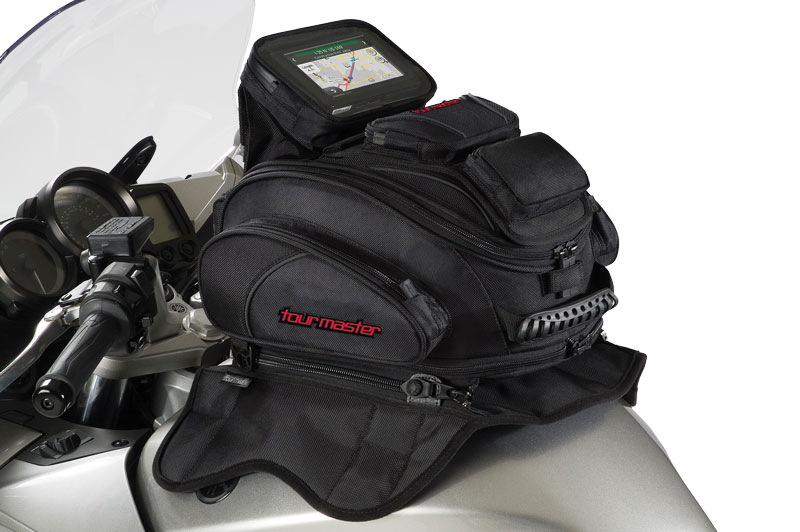 This list includes a lot of things to carry with you on a motorcycle tour. Big touring bikes have saddlebags, a top trunk and perhaps a couple of fairing compartments for storing gear, but other bikes require strap-on soft luggage or accessory hard luggage. For convenience, though, nothing beats a tank bag. Most tank bags have a map (#1) pocket or a compartment for a GPS (#2) on top, and they have a large main compartment for easy access to extra gloves (#12), sunblock (#15), face shield cleaner (#17), snack bars, cash for tolls, earplugs and countless other items. Tourmaster's Elite 14L Tank Bag ($129.99) is a good choice. Its made of heavy-duty 1680 denier polyester, has 14 liters of capacity, can be mounted using magnets or straps and includes a clear pocket for a smartphone or GPS (#2 on our list).
Read our review of the Tourmaster Elite 14L Tank Bag
Read Clement Salvadori's 35 Bucket-List Motorcycle Rides
EDITOR'S NOTE: Updated on 2/4/19 with current products and prices.