We aren't normally a shiftless bunch except for an hour or two after lunch, but we recently spent the last two weeks swapping between two new "automatics"—BMW's C 650 GT maxi-scooter, and Honda's NC700X with dual-clutch transmission—in an effort to see which type of shiftless two-wheeler rules the urban no-man's land between home, work and other mundane daily destinations. You can use the manual mode on the Honda and do your own shifting, but to level the field we declared manual mode off-limits.
Fact is, I really like shifting; for me it's part of the motorcycle experience. But I'll tell you what—in the daily battle with the four-wheeled anti-destination league clogging the roads around town, there are some times when not having to do all that clutching and clicking is kind of nice. A relief, even. So, which do you not do it on, the maxi-scooter or the motorcycle?
With their quick acceleration, nimbleness and narrowness, automatic or not, there's no argument that scooters and motorcycles are the weapons of choice for conquering the commute. When it comes to "shiftless" urban mobility for the masses, however, with a few exceptions, scooters with their automatic constant-velocity transmissions (CVTs) have ruled the road so far. They're cute, approachable, easy to ride, and the small ones are attractively cheap and fuel-efficient. For many riders, the way you "step-through" to mount and dismount in front of the seat is a wardrobe requirement if not a physical one; swinging a leg over a motorcycle saddle can be difficult for some riders, simply inappropriate or too aggressive for others.
But what about these highway-ready maxi-scooters, like the newest C 650s from BMW (Rider, June 2012, page 88)? If you take away the light weight, small size, low cost and some of the fuel efficiency, does the maxi-scooter still have the upper hand over a light, nimble motorcycle with a similarly automatic twist-and-go transmission? In the case of BMW's C 650 GT maxi, the rider enjoys terrific wind protection from its large electric windscreen, fairing and floorboards; good underseat storage capable of holding a full-face helmet and several bags of groceries; a huge cushy dual seat; and a convenient parking brake that is disengaged by raising the sidestand. The final drive chain is encased in an oil bath and rarely needs attention, and the GT has powerful triple-disc brakes and surprisingly high-performance suspension. Typical BMW touches like LED lighting and a heated seat and grips contribute to the scooter's—dare I say it—carlike luxury.
This is a powerful vehicle, too; its 647cc liquid-cooled parallel twin makes a claimed 60 horsepower and is capable of rocketing the scooter briskly between lights and to highway speeds in a growling burst of acceleration. It slices and dices through traffic like the cars are standing still, too…even when they're not. At highway speeds in excess of 80 mph there's power to spare, and the scooter is stable and solid thanks to its big wheels and radial tires. In roll-on contests, even with the Honda NC700X in the sportier of its two automatic DCT modes, the scooter was always the victor by a small margin, even though our C 650 GT weighed 43 pounds more than our fully optioned NC700X test bike. A long two-up tour, perhaps with the addition of the optional top trunk, would be a hoot on this scoot.
On the other hand, when scooters grow this large some of their inherent advantages are lost. Pushing the C 650 GT's 587 pounds is actually a little harder than paddling the NC700X around, and it sucks up as much garage space as the middleweight adventure tourer. The maxi's engine bay between your feet is taller and larger out of necessity, too, so getting on it is less like gracefully "stepping through" than clumsily stepping over. This particular scooter has an unusually high seat height that feels even higher than its 31.7-inch spec, too—with my inseam of 29 inches, I was often caught off-guard by how far it is to the ground at stops, especially for a scooter (BMW says a lower seat is in development).
Ridden similarly, the NC700X achieved superior average fuel economy of 55.2 mpg on regular gas; the C 650 GT only hit 44.6 mpg and requires a minimum of 89 mid-grade fuel. Finally, at its widest, the GT's bodywork is only three inches narrower than the Honda's saddlebags. Neither is particularly wide, but scraping bodywork is tragic while scratching a saddlebag is merely irksome.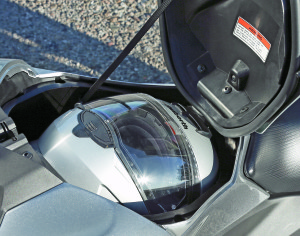 OK, so a big scooter isn't the same as a little one, is it? If I want shiftless convenience but don't necessarily need step-through style, what's the Honda NC700X got going for it? To get them closer in terms of cost and equipment, we asked Honda to equip our NC700X like our last test bike (Rider, November 2012), with many of its accessories including the locking hard luggage. In combination with the NC700X's innovative 21-liter tank compartment, the bags give it substantially more luggage capacity than the GT—the NC will hold two full-face helmets before you even open the saddlebags, in fact. Though you do have to lift and swing or stick your leg over the seat to get on, the NC's seat height is low enough that I can plant both feet on the ground at stops. And rather than a passive, feet-forward seating position like a riding mower, the motorcycle's footpegs are beneath you so can stand up over bumps. The handlebar is higher, too, giving better leverage.
You can take the NC more places thanks to its adventure styling and greater ground clearance, and though the C 650 GT is probably the best-handling big scooter we've ever ridden, it just can't match the NC700X's nimbleness in tight corners. While the scooter is faster on top, unlike its CVT belt and pulleys, the dual clutches in the NC's transmission engage each gear solidly, so the lighter motorcycle gets away from a light more briskly and feels a little quicker in the city.
All is not perfect in NC700X land, though. While our bike shares heated grips it lacks the scooter's wind protection, and that taller accessory windscreen is noisy. Both are equipped with ABS, but the NC700X's single front disc brake is a bit wimpy and its suspension is too soft for two-up and fully loaded riding. The rider and passenger's seats can't hold a candle to the scooter's plush bench, and you can't ignore the final drive chain like you can the scooter's. The engine is only rated for 47 horsepower, too (51 for the standard trans), and shifted manually, its low redline of 6,500 rpm takes some getting used to before you stop running into the rev limiter.
The verdict? We compared these machines because they offer two completely different approaches to shiftless middleweight mobility. Either would be a functional choice. Ironically, the BMW C 650 GT is the better two-up, long-distance bike. It's more like a middleweight sport-touring motorcycle styled like a scooter than a scooter in the traditional sense. It offers some step-through convenience with luggage capacity, plenty of long-range comfort and wind protection with motorcycle-like power, brakes and suspension. But the Honda NC700X DCT is actually a better "scooter" for commuting in that it's lighter, feels quicker, has a lower seat height, better handling, gets better mpg and holds more stuff. It's acceptably comfortable for long rides, and you can take the luggage off for even more maneuverability or just playing around, and still have some storage. So, a motorcycle styled like a scooter…or a motorcycle? Unless you have to step-through, we say swing a leg over the bike.
2013 BMW C 650 GT
Website: bmwmotorcycles.com
Base Price: $9,990
Price as Tested: $10,595 (heated seat & grips, TPM)
Engine Type: Liquid-cooled, transverse parallel twin, DOHC, 4 valves per cyl.
Bore x Stroke: 79.0 x 66.0mm
Displacement: 647cc
Transmission: Continuously Variable (CVT)
Final Drive: Enclosed chain in oil bath
Wheelbase: 62.6 in.
Rake/Trail: 25.4 degrees/3.6 in.
Seat Height: 31.7 in.
Wet Weight: 587 lbs.
Fuel Capacity: 4.2 gals., last 1.1 gal. warning light on
Average MPG: 44.6; min. PON 89
2013 Honda NC700X
Website: powersports.honda.com
Base Price: $6,999
Price as Tested: $11,598 (DCT ABS model, MSRP $8,999, plus Tall Windscreen, Accents, Deflectors, Light Bar, 45-Liter Trunk, 29-Liter Saddlebags, Centerstand, Heated Grips, 12V Accessory Socket)
Engine Type: Liquid-cooled, transverse parallel twin, SOHC, 4 valves per cyl.
Bore x Stroke: 73.0 x 80.0mm
Displacement: 670cc
Transmission: 6-speed, dual clutch automatic (as tested)
Final Drive: O-ring chain
Wheelbase: 60.6 in.
Rake/Trail: 27.0 degrees/4.3 in.
Seat Height: 32.7 in.
Wet Weight: 545 lbs. (as tested)
Fuel Capacity: 3.7 gals., last 0.8 gal. warning light on
Average MPG: 55.2; min. PON 87
(This article Maxi-Scooter or Motorcycle? was published in the April 2013 issue of Rider magazine.)
| | |
| --- | --- |
| BMW's complete instrumentation includes a trip computer and TPM readout. | Longish BMW underseat storage holds one full-face helmet and some gear. |