Each type of motorcycle—sportbikes, dual-sports, cruisers, naked bikes, tourers and sport tourers—is designed to perform a series of specific tasks, and each is finely honed to that use. Likewise, the gear we wear needs to be as finely honed to the specific task as our motorcycles.
With that said, what makes for a good touring or sport-touring boot? Define these tasks, and you will define how this type of boot should function. Touring, especially when done in a sporting manner, involves travel at greater velocities, which demands a boot that offers protection and long-distance comfort in a variety of weather conditions.
The matter of fit and comfort is quite subjective, but we have found that a comfortable boot flexes well and does not restrict the ability to squat down to check tire pressure or pick up a glove that has fallen off the seat. It likewise allows the ankle to flex for easy shifting, braking and walking up and down stairs. The sole should not be so thick or stiff as to detract from the "feel" of the brake pedal. Expect a shifter pad atop the left boot. Some makers place a pad atop each boot for symmetry, and because some classic bikes shift on the right with the brake lever on the left.
For protection, you'll want strategic padding around the toes and ankle bones. The majority of riders still wear dark colors, so for visibility we recommend you wear something lighter or even reflective. All but two of the boots we test include reflective material, but each is available only in black.
From testing these boots we suggest that you wear long socks with them, socks that are taller than the boots to prevent the chafing that can occur when the boots' top edges abrade your calves. Socks can also make the boots easier to pull on and get off, while being more comfortable all-around. For a test of specific riding socks, see the August 2011 issue of Rider.
As for putting them on, it's easier when the zippers are located on the inner-facing sides of the boots rather than the outer. This way, you can sit down, swing one boot atop your other knee and the zipper will be right there. When the zipper is on the outer-facing surface of the boot, you have to tilt your leg at an awkward angle to deal with it.
Taller boots offer potentially greater protection from wind, weather and abrasion, but likewise become heavier and potentially bulky. We list the height in our test.
I asked each boot company to send us a touring or sport-touring boot in an appropriate size, and rode with them, walked around in them, climbed stairs and generally utilized them as you would on tour. Finally, to test their weather-tightness, I filled two buckets with water and submerged each pair of boots in turn to near the top of their inner gusset. Two minutes later, I withdrew them and checked them periodically inside for moisture—that is unless they leaked immediately, as most did.
Please note that this submersion test is much more severe a situation than you will likely encounter in the rain, but is easy to accomplish and repeatable. Just because a boot takes in water while partially submerged does not necessarily mean it will do likewise in a rainstorm. However, if it does not take in water during the test it means it's not likely to leak at all. We still take boot covers of some type with us on tour, because completely waterproof boots are rare and the cold temperatures that often accompany rain can make a rain-soaked boot very cold, even if the water never gets inside.
Leather is a naturally porous material, so for these boots to be water-resistant or waterproof they incorporate a membrane (such as Gore-Tex or Hipora) to screen out the water. A fully sealed boot would not work as it would not breathe, which would cause your foot to soon feel damp and clammy. Instead, these sophisticated membranes do not let water in, but have microscopic pores that allow the vapors to escape.
Aerostitch Combat Lite
$297
Men's Sizes 7.5-15
Height: 13"
aerostich.com
Aerostich's Combat Lites are manufactured for them exclusively by Sidi with a full-grain leather upper, internal ankle and toe padding, and a padded collar. They slip on easily and snug up with an inner speed lace/cordlock setup, an adjustable arch buckle and outer hook-and-loop calf closures. At 13 inches tall, they're heavy and rugged, but have fewer individual leather pieces and seams so they're slightly lighter and less clumsy than Aerostich's taller Combat Touring Boots ($347).
Though "lite" they're still the heaviest boots in our test, and with their stiffness it's difficult to bend the ankles easily or make fine adjustments to the shift lever or brake pedal (they soften up after a prolonged break-in period). They offer reflective material in the heel gusset and, in our soak test, did take in a small amount of water. They're also changed since the Lites we tested two years ago: gone is the cuff around the top. You can specify wedge (shown) or cleated soles.
Their heaviness make these boots more suitable for the dual-sport, GS or V-Strom rider who is seeking protection in rough going, where they should excel. For all-around street riding, however, they're not as comfortable and supple as other boots here.
Alpinestars Roam Waterproof
$179.95
Men's Euro Sizes 38-48
Height: 12"
alpinestars.com
With a synthetic leather upper and lightweight fabric inserts, the Roam also features Alpinestars' exclusive Drystar liner. The Roam opens to the outer side and secures with two hook-and-loop straps and a flap, the middle one of which does not attach well because foot flex tends to loosen it. The fact that the boot is only held onto your foot with hook-and-loop could be a minus, but on the other hand there is no zipper to jam or fail. The rubber compound sole was stiff, which affected sensitivity on the brake pedal, but this stiffness was not a factor in climbing stairs. Despite being made of a synthetic material, these boots did not become clammy.
Dual-density ankle cups and heel protectors are CE-approved, and there's also a rear reflective insert. During the bucket test, these were one of only two boots that did not take in water.
Though the sole is stiff, the Roams were indeed waterproof and should break in quickly. They're a good, handsome choice for those seeking a traditional-looking boot, so long as you're not bothered by the lack of a zipper.
Bilt Pro Tourer (from Cycle Gear)
$119.99
Men's Sizes 8-14
Height: 9.5"
cyclegear.com
From Cycle Gear, the Bilt Pro Tourer combines a leather upper with an unspecified waterproof membrane. With a zipper on each side, the front section of the boot splits fully open for easy entry, and while the uppers are very well padded, the soles offer less padding.
The 9.5-inch Pro Tourers are light and actually more of a cross between a heavy shoe and a lightweight boot. While the Pro Tourers offer a great deal of free frontal movement for bending or squatting, they are very stiff up the back which limits frontal flex and likewise requires some effort when shifting. The molded sole grips especially well—as well as any boot here—but they do not breathe well, which caused them to feel particularly warm. In the bucket test, the left boot took on water immediately; about 90 seconds later, the right boot did so also.
The Pro Tourers are lightweight, inexpensive and good for walking, but can become warm and clammy. The reflective patch on the rear is welcome, but they are relatively short and not watertight.
Cortech Latigo WP Road Race Boot
$169.99
Men's Sizes 7-14
Height: 12.5"
cortechperformance.com

Though we specified touring and sport-touring boots for this test, Cortech submitted this very stylish pair of roadrace boots. They feature a Mycro Tech upper, Hipora membrane, molded plastic replaceable toe sliders and a good deal of protection all around. The boots have a high-tech look and, with zippers on the inner surface, go on and off easily. The heel feels slightly taller than it needs to be, giving the impression that you're walking downhill. They don't have a lot of frontal flex, but rigidity to the rear restricts walking down stairs; shifting is not compromised to any significant degree. The right boot tended to creak a bit when I walked, and they did not offer reflective material. In the bucket test, the Latigos took in a good bit of water.
The Latigo boot is a bit stiff, but that stiffness is the result of a good deal of protection that includes padding in the front and rear ankle areas, molded shin guards with shock-absorbing material and shock-absorbing latex foam on flex panels. If you're looking for a stylish boot with a good bit of protection, the Cortechs would suit you well.
Firstgear Kathmandu
$169.99
Men's Sizes 8-13
firstgear-usa.com

Firstgear was unable to provide us with a pair of boots in time for testing, but did send information about its new Kathmandu. This touring boot features a full leather upper, waterproof and breathable Hipora lining, and dual cam-buckle closures.
For protection, it offers a hard toe box and shin protector, and accordion leather fore-arch and heel panels. Firstgear states that it's designed for long rides.
Joe Rocket Sonic R
$129.99
Men's Sizes 7-13
Height: 12.5"
joerocket.com
I expected these to be an update of the Sonic boot we tested two years ago, but when they arrived the Sonic Rs were an entirely different animal. Gone are the clunky buckles and heavy side padding, replaced by a slimmer, sportier style that incorporates replaceable toe sliders. The Sonic Rs include a leather body with a low-profile toe area and double stitching in high-stress areas. There's also a composite innersole, injection-molded toe armor and reinforcing in the shin, ankle, heel and on the shifter areas. They utilize a DryTech membrane with an inner "waterproof" gaiter, and the suede pad on the inner surfaces should prevent them from scuffing your bike.
Slip them on and note the articulated ankle area, large entry on the inner-facing surface and long zipper. All this made for relatively easy walking, both up and down stairs. During the dunk test, however, the boots took in quite a bit of water.
Easy to get into and out of, handsome and sporty, the Sonic R by Joe Rocket has style and easy walking function. The only caveat is that it may not be your first choice if you expect to do a lot of riding in the rain.
Sidi Tour Gore-Tex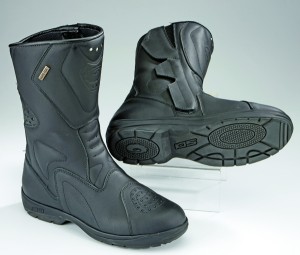 $350
Men's Euro Sizes 41-48
Height: 12"
motonation.com
The Sidi Tour Gore-Tex offers leather construction with a Gore-Tex membrane in the outer shell. The zipper entry system and gusset run full length with a hook-and-loop closure, and the boot features reflective dots on the front, back and sides. Slip your feet inside along the soft Cambrelle lining and note the nylon inner sole with a removable arch support pad, along with internal heel, ankle and toe protection. The boot was rather stiff, and while walking I could feel this stiffness across the top of the foot, behind the toes; this type of situation usually lessens as the boot breaks in.
The 12-inch-tall boot fit me well, was medium in weight, breathed well and did not leak during the dunk test. It was also acceptably flexible for squatting and one of the most comfortable here for hiking, though stiff while descending stairs. As the most expensive boot in our test, the Sidi Tour Gore-Tex was handsome, stylish and did everything well. Note that if the Tour Gore-Tex is too rich for your blood, Sidi offers another version called the Tour Rain that is similar in appearance but is made of synthetic leather, has a lower-cost membrane and sells for $225.
Tour Master Solution WP Road
$119.99
M/W Sizes 7-14/6.5-10
Height: 11"
tourmaster.com
Tour Master's Solution boots feature a water-repellent leather and polyurethane upper that incorporates a Hipora membrane and a 3M ScotchLite reflective panel on the rear areas. From the first time I put them on, the Solution boots seemed to fit me perfectly and offered a great deal of comfort. They also offer molded nylon shin and ankle guards, and thermoplastic heel cups and toe caps for protection. In the soak test, the Solution took in a bit of water despite their Hipora membrane.
What I liked about the Tour Master Solutions is that everything (except water tightness) just flat worked, which I cannot say about most other boots here. The single zipper is on the inside for greater convenience and is covered by a flap. There's even a loop on the back that makes them easy to pull on. They were easy to get into and out of, the soles were comfortable, they gripped well and were quite flexible for easy walking, shifting and squatting. Finally, when you consider the low price, these boots are a real winner.
Vega Touring Boot
$79.99
M/W Sizes 8-13/6-11
Height: 11.5"
vegahelmet.com
A zipper on each side helps the Touring Boot by Vega to gape open and swallow each foot, though it would be easier if those zippers were just a bit longer. They also feature hook-and-loop calf gussets in the rear for adjustment, but the size 10s were a bit tight on me. Information from the company touts the "waterproof leather uppers," but does not reveal by what method or brand of membrane this protection is provided.
The Vega Touring Boot is by far the least expensive boots in our test, yet it neither looks nor feels cheap. Within seconds of placing them in the bucket, water began seeping into both boots. Once again, keep in mind that the bucket test places far more demands on a boot than one would experience by simply riding in the rain.
The Vega Touring Boot is inexpensive and stylish, flexible enough for easy walking, but one of the shorter boots here. Also, don't expect it to keep your feet completely dry in the rain.
(This Touring and Sport-Touring Boot Buyers Guide was published in the February 2013 issue of Rider magazine.)