Mid-size bikes make a lot of sense. Not only because they tend to be less expensive and lighter, but also because they have become so competent. Considering competence, this trio of liquid-cooled, 650cc-class twins each has a 6-speed transmission, chain final drive and some gravel-road pretensions (though we did not test them in that environment). Two have been around for years, and the third is brand-new for 2012.
Our lineup includes the Kawasaki Versys ($7,899), a parallel twin with dual overhead cams, four valves per cylinder and a displacement of 649cc, along with the 645cc Suzuki V-Strom 650 ABS ($8,299) with its four-valve, DOHC, 90-degree V-twin motor and anti-lock brakes (ABS). Honda's new NC700X ($6,999 with standard 6-speed transmission, or $8,999 with optional Dual Clutch Transmission and ABS) is powered by a 670cc parallel twin with a single overhead cam and four valves per cylinder, and offers an intriguing array of options (see full test page 24). The latter is not to be confused with the now-defunct Honda NT700V, a 680cc V-twin with integrated fairing and saddlebags that had a 2011 price tag of $11,199.
To illustrate the differences among these twisted sisters, we took them on a long day ride of several hundred miles, riding them back-to-back and comparing observations. Our ride included freeway, two-laners and twisty mountain roads. We found that the Kawasaki Versys and Suzuki V-Strom 650 ABS are similar in intent, adventure-style bikes with a high seat, but their exposed hardware and lack of a bash plate belies the notion of their doing any serious off-roading. The Honda, in terms of options and design, is something else indeed. We chose to test the model with the optional DCT, which offers an automatic transmission with shifting in three modes, and ABS.
The Versys' 33.3-inch seat height will have some riders tip-toeing while at rest. Its seat feels mushy, lacking in support, and its handlebar is placed rearward with the pegs forward, adding to the slightly unstable feeling at rest. Engage the clutch, however, and the bike leaps into its element. The first part of our ride involved twisty Highway 33 north out of Ojai, California, up and over a 5,000-foot pass. Here, the Kawasaki ripped along well in the turns thanks in part to its high-end Dunlop Sportmax tires on 17-inch rims, firm suspension, shorter 55.7-inch wheelbase and steeper rake (25 vs. 26 degrees) than the Suzuki. By contrast, the Suzuki rider feels slightly more in control with the grips farther forward and a 32.9-inch seat height that seems lower because of its more compliant suspension and more comfortable, supportive seat. It generates the most power of the bikes in our test and its wider bars allow it to be muscled through the turns. Still, because of its long 61.4-inch wheelbase and 19-inch front wheel, the V-Strom changes direction more deliberately, which allows the Kawasaki rider to charge ahead.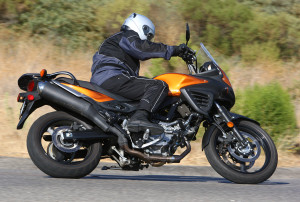 Honda claims only 47 horsepower and 44.2 lb-ft. of torque for the DCT ABS version of the NC700X, or 51 horsepower in the standard-shift version; we were unable to rear-wheel dyno our DCT unit because the front wheel must be spinning to shift out of first. On its own, power is adequate, but in straight-line performance terms, the Honda wasn't even a close third, since at 545 pounds this curious machine outweighs the Suzuki by 74 pounds, and the Kawasaki by a whopping 90. Still, in the tight twisties, the Honda was surprisingly competitive so long as we utilized its transmission in the Manual-shift mode with the bar-mounted paddle shifter. In "D" (Drive), however, it was lethargic as this mode is intended to deliver stellar fuel economy; it would often have shifted into the third of its six gears before we had even left the parking lot. Finally, the motor is redlined at a low 6,500 rpm (as opposed to 10,000 for the V-Strom and 10,500 for the Versys) so it never really has a chance to inhale fully relative to the other bikes.
The Honda offers what we all agreed were the best ergonomics of the group, along with a 32.7-inch seat height that seems even lower. With a 60.6-inch wheelbase and 27 degrees of rake (all three bikes have 4.3 inches of trail) it provides stable and sprightly handling, and is well planted on its Metzeler Roadtec Z8 tires on 17-inch rims. Its seat also offers good support, its suspension was supple yet well controlled, and we loved the storage compartment located in the normal fuel tank position that will hold a full-face helmet.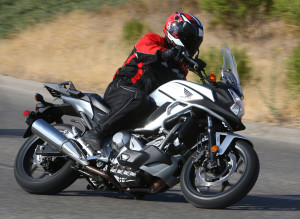 In side-by-side roll-ons, the Suzuki beat out the Versys by a small margin, principally because with 66.2 horsepower at 9,000 rpm it makes about 9 percent more power than the Kawi's 60.2; at 471 pounds wet, the V-Strom is 16 pounds heavier than the Versys. The Honda is enjoyable in its Sport or Manual-shift modes, but begins stuttering against its rev limiter early, and therefore really isn't competitive in a drag race with the other two bikes.
What we have here is a close contest between the Kawasaki and Suzuki, with the Honda and its DCT taking a far different approach. If you seek all-out thrills and back-road handling, the Versys will deliver that in spades, while it returned 45.3 miles per gallon during our spirited day ride. For slightly more deliberate handling but with anti-lock brakes, more comfort and a greater degree of versatility on gravel roads with its 19-inch front wheel and Bridgestone Trail Wing tires, consider the V-Strom 650…which delivered 58.2 mpg!
The Honda is the most intriguing twisted sister, especially with the DCT. We three riders went into this test fully expecting to dislike the automatic shifting, and did indeed have disdain for the Drive mode's narcoleptic performance as it constantly upshifted out of its powerband to save fuel. In Sport mode, it held each gear longer and readily downshifted, while in Manual mode we controlled everything with the paddle shifter. It offers seamless shifting with real-world convenience and enjoyable (if not competitive) performance, while it delivered 64.2 mpg on this ride; it would certainly have done even better had we left it in Drive mode and ridden conservatively.
We all agreed that the Honda NC700X delighted even us seasoned riders with its comfort and ergonomics, a plethora of available accessories, low MSRP (in the standard-shift version) and that handy storage area. Its automatic clutch and shifting will appeal to inexperienced and new riders—features not offered by the other two manufacturers. We suggest that unless you really need or want the DCT and ABS for the additional $2,000, that you instead choose the standard-shift version and apply the savings to outfitting it with its excellent saddlebags, trunk and other accessories for a mellow touring experience.
2012 Suzuki V-Strom 650 ABS
Base Price: $8,299
Engine Type: Liquid-cooled, transverse, 90-degree V-twin
Bore x Stroke: 81.0 x 62.6mm
Displacement: 645cc
Transmission: 6-speed, cable-actuated wet clutch
Final Drive: O-ring chain
Wheelbase: 61.4 in.
Rake/Trail: 26 degrees/4.3 in.
Seat Height: 32.9 in.
Wet Weight: 471 lbs.
Fuel Capacity: 5.3 gals., last 1.1 gals. warning light on
Average MPG: 58.2
Website: suzukicycles.com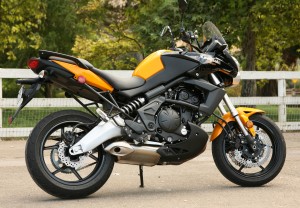 2012 Kawasaki Versys
Base Price: $7,899
Engine Type: Liquid-cooled, transverse parallel twin
Bore x Stroke: 83.0 x 60.0mm
Displacement: 649cc
Transmission: 6-speed, cable-actuated wet clutch
Final Drive: O-ring chain
Wheelbase: 55.7 in.
Rake/Trail: 25 degrees/4.3 in.
Seat Height: 33.3 in.
Wet Weight: 455 lbs.
Fuel Capacity: 5.0 gals., last
1.0 gal. warning light on
Average MPG: 45.3
Website: kawasaki.com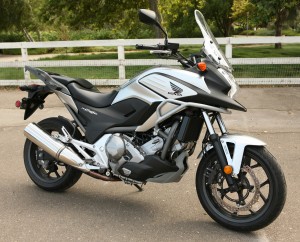 2012 Honda NC700X DCT ABS
Base Price: $6,999
Price as Tested: $11,598 (DCT ABS model, MSRP $8,999, plus Tall Windscreen, Fairing & Saddlebag Accents, Fairing Air Deflectors, Light Bar, 45-Liter Trunk, 29-Liter Saddlebags, Centerstand, Lower Cowl Deflector, Heated Grips,
12V Accessory Socket)
Warranty: 1 yr., unltd. miles
Website: powersports.honda.com
Engine
Type: Liquid-cooled, transverse parallel twin
Displacement: 670cc
Bore x Stroke: 73.0 x 80.0mm
Compression Ratio: 10.7:1
Valve Train: SOHC, 4 valves per cyl.
Valve Inspection Interval: 8,000 miles
Fuel Delivery: PGM-FI, 36mm throttle body
Lubrication System: Wet sump, 3.6-qt. cap.
Transmission: 6-speed, dual clutch automatic (as tested)
Final Drive: O-Ring Chain
Electrical
Ignition: Digital transistorized w/ electronic advance
Charging Output: 420 watts @ 5,000 rpm
Battery: 12V 12AH
Chassis
Frame: Tubular-steel diamond w/ engine as stressed member, box-section steel swingarm
Wheelbase: 60.6 in.
Rake/Trail: 27.0 degrees/4.3 in.
Seat Height: 32.7 in.
Suspension, Front: 41mm stanchions, no adj., 5.4-in. travel
Rear: Single linked shock, adj. for spring preload, 5.9-in. travel
Brakes, Front: Single 320mm disc w/ 3-piston pin-slide caliper & ABS (as tested)
Rear: Single 240mm disc w/ 1-piston pin-slide caliper, linked w/ front, & ABS (as tested)
Wheels, Front: Cast, 3.50 x 17 in.
Rear: Cast, 4.50 x 17 in.
Tires, Front: 120/70-ZR17
Rear: 160/60-ZR17
Wet Weight: 545 lbs. (as tested)
Load Capacity: 390 lbs. (as tested)
GVWR: 935 lbs.
Performance
Fuel Capacity: 3.7 gals., last 0.8 gal. warning light on
MPG: 87 PON min. (low/avg/high) 54.3/59.8/68.3
Estimated Range: 221 miles
Indicated RPM at 60 MPH: 3,200
(This article Twisted Sisters was published in the November 2012 issue of Rider magazine.)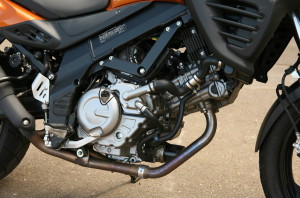 | | |
| --- | --- |
| With its tight geometry, stiff suspension and 17-inch front wheel, the Versys is fun in the turns. | The Suzuki offers good comfort, but handling is slowed by a 19-inch front wheel. |
| Generous cornering clearance and spry handling make for serious fun on back roads. | The Versys' motor revs well and produces 60.2 horsepower at 7,500 rpm. |