By Greg Drevenstedt * Photography by Kevin Wing
Whereas the CVO Road Glide Custom is freighted with extras (see page 30), the new-for-2012 Harley-Davidson FLS Softail Slim is stripped down to the bare essentials, like bobbers built in the '50s by former servicemen. It's no surprise, then, that Captain America, a World War II-era superhero, rides a Slim in The Avengers movie released earlier this year.
Riding the Slim is an unvarnished experience, forming an intimate relationship between rider, machine and elements. From the saddle, the top of the counterbalanced, air-cooled Twin Cam 103B V-twin is visible between the seat and tank, and the rigid-mounted engine transmits a hefty dose of vibration to the rider. You sit low in the solo seat, with feet planted on rubber-insulated half-moon floorboards. The wide, low, cross-braced Hollywood handlebar is finished in gloss black, as is the headlamp, louvered nacelle, air cleaner cover, horseshoe oil tank and rear fender supports. The chrome laced wheels, in identical 16 x 3 inch sizes, are also gloss black. Atop the 5-gallon Fat Bob tank, its center seam covered by a thin leather strap, is a retro-style speedometer. Naturally, both fenders are bobbed.
The Slim's Twin Cam 103B engine, equipped with Automatic Compression Release for easier starting, spun up Jett Tuning's dyno to 70.7 horsepower at 5,100 rpm and 87.6 lb-ft of torque at 3,200 rpm (redline is 5,500). More than 80 lb-ft of rear-wheel torque is available from 2,200 to 4,300 rpm, helping the bike leap forward from a stop, accelerate briskly in any gear and cruise steadily at highway speeds, though the lack of wind protection makes for a pretty turbulent experience. Our test bike's cable-actuated clutch required a firm pull and felt notchy, as if the cable needs to be lubed. And the 6-speed Cruise Drive transmission was clunky in the lower gears and neutral played hide-and-seek at stop lights.
Despite laidback steering geometry, the Slim's wide handlebar, narrow rear tire and moderate 704-pound wet weight make it easy to roll the bike through turns. Unfortunately, those natty floorboards grind the asphalt early due to limited cornering clearance. The Slim has just 24 degrees of lean angle on the right, 24.9 degrees on the left, less than any other Softail. Though low to the ground, the Slim's non-adjustable suspension offers a fair amount of travel—5.1 inches for the fork and 4.3 inches for the rear coil-over shocks. Despite the suspension's best efforts, I came to dread bumps of any size because beneath the thin padding of the seat's rear bolster is a sharp edge that dug into my tailbone with each impact. In fact, I never developed a cozy relationship with the Slim's seat under any conditions.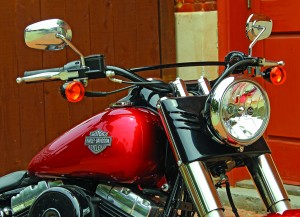 Though decidedly old school in appearance, the Softail Slim makes certain concessions to modernity, subtly hidden from view. Its engine is fuel-injected and has hydraulic valve lifters that require no adjustment. The Softail rear end looks rigid but has rear shocks mounted horizontally under the bike. The retro speedometer has a small inset LCD display with multiple functions (odometer, dual tripmeters, fuel range, gear position/tachometer and clock). And our test bike was equipped with the $1,195 Security Package that includes an anti-theft alarm with proximity-based key fob and ABS. The single front and rear disc brakes hauled the Slim down with authority as long as I put some muscle into it.
The Softail Slim is one of the least expensive Twin Cam 103B-equipped models in Harley's 2012 lineup. The fat has been trimmed away, leaving behind the meaty essence of a cruiser. Perfect for clearing your head after a long day of saving the world.
2012 Harley-Davidson FLS Softail Slim
Base Price: $15,499
Price as Tested: $17,079 (color, Security Package)
Website: harley-davidson.com
Engine Type: Air-cooled, transverse 45-degree V-twin, OHV, 2 valves per cyl.
Bore x Stroke: 98.4 x 111.1mm
Displacement: 1,690cc (103ci)
Transmission: 6-speed, cable-actuated wet clutch
Final Drive: Belt
Wheelbase: 64.4 in.
Rake/Trail: 31 degrees/5.8 in.
Seat Height: 25.9 in.
Wet Weight: 704 lbs.
Fuel Capacity: 5.0 gals., last 1.0 gal. warning light on
MPG: 91 PON min. (high/avg/low) 40.0/37.1/33.0
| | |
| --- | --- |
| Fat Bob tank holds 5 gallons and has a "cat's eye" console with retro-style speedo and LCD display. | Twin Cam 103B V-twin has an Automatic Compression Release for easier starting. |
| Though the Slim looks small beneath me, the seating position doesn't feel cramped. But the thinly padded seat is uncomfortable. | Half-moon floorboards have vibration damping rubber inserts, and they grind asphalt easily. |
(This SUPER SLIM article was published in the August 2012 issue of Rider.)