Eight of us were invited to Canada by the Ottawa Valley Tourism Association, Go Ride Ottawa and Trillium Motorcycle Tours to explore the promise of their spectacular province's slogan, "Yours to Discover," by traveling the Ottawa Valley and Algonquin Provincial Park. So, after a long day of individual treks from our home bases, we arrived at the Ottawa (Canada) Airport, claimed our baggage, and found ourselves being shuttled to Deeley Harley-Davidson (for three Harleys), BMW Motorrad Canada (for three BMWs), and finally to Honda Canada (for two Hondas), as diverse a group of rides and riders as we could wish for.
The first 100 miles got the kinks out and led us to our first night's stay at Dickson Manor at Calabogie Peaks Resort, a premier resort offering seasonal activities from skiing/snowboarding, skating, snowshoeing and tubing to golfing, hiking, biking, canoeing and swimming (indoor and out). Luckily, we were accommodated at the resort's Canthooks Restaurant, despite arriving well past our reservation time (they had kept the sous chef there just for us). A delicious dinner and a glass of local brew sent us all to bed in very comfortable rooms to rest up for our first full day of riding.
We were fortunate to have arrived during the first rain-free week the region had seen in months, but as we prepared to leave we were each handed a little gift bag, complete with bug spray and an ingenious hat with bug netting attached. This did not bode well and our hosts proceeded to educate us about black flies, a seasonal gift from the heavy rains. We'd discovered the pesky "no see'ums," the night before while standing outside. Later we'd be glad for the hat and spray!
The next day had us riding Calabogie and the Greater Madawaska Valley area, including the 511 Loop to Parkenham and Arnprior, then along the Ottawa River to Beachburg through forests thick with so many types of trees the wildlife hiding there were invisible. There were moose crossings at every turn, but not one came to check us out, leading us to speculate they were all at a convention. Our whirlwind tour did not leave us time to wait, so off we headed to the Calabogie Motorsports Park.
This world-class park has the longest track in Canada, with 20 turns, a 40-foot-wide track, and a 2,000-foot-long straightaway. Opened in 2006, it features car and motorcycle racing, the CMP Mustang Experience and many other events and track days. Fortunately, we were able to take our bikes out and make a victory lap while following manager Jane Blinn in her screaming Ford Mustang Pace car.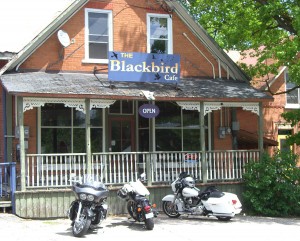 Later, we twisted our way through deserted back roads along the river to the lovely little village of Burnstown for lunch. The Blackbird Cafe was chock-full of antiques and cutesy decorations with an appealing menu offering huge salads and sandwiches. There wasn't time to visit the town's shops and galleries since we were quickly off to our next overnight stop, the London House Inn & Spa in Foresters Falls/Beachburg.
Located on the site of the 165-acre RiverRun Rafting & Wilderness Resort on the Ottawa River, this is not your typical spa, for there are cottages and Victorian-style homes on site that have been turned into very comfortable and inviting refuges. We were given the option of a spa treatment or a half-day river rafting trip the following morning, and we headed off to a good night sleep after a quick dinner of pizza and a glass of wine.
Yes, you could say we should have done a bit more research before deciding on the river rafting trip, and yes, you could say we were not at all prepared, but nevertheless, four of us brave souls took the plunge. And that is exactly what it was, since the Ottawa River has the largest commercially rafted rapid in North America called the Buseater. (Check it out on YouTube at http://www.youtube.com/watch?v=f67IDYPOwsM&feature=related.)
The river was just below the high-water mark at which they stop running rafts and we launched where the rapids could not be seen, so we unknowingly set out to be eaten up and spit out. While an exhilarating experience I wouldn't have missed, the rapids booted me from the raft and I came up for air underneath it, fighting my way out for seconds that felt like forever. When I finally popped out from below, the guide stood over me and told me I needed to let go of the raft so he could flip it over. Eventually all of us were back in the raft, cold and shivering. Who says motorcycling is dangerous? I was looking forward to getting back on the bike … and back to the hot tubs.
After a soak and lunch, we were back on the bikes in good time and off to our afternoon stop—the Bonnechere Caves in Eganville, the Ordovician Fossil Capital of Canada, where a tropical sea left behind the fossils of coral and sea creatures 500 million years ago. Despite my claustrophobia, it was nice to be down in the cool of the caves and spelunking seemed an appropriate complement to riding the rapids.
It was good to get back on the road though, riding along the Opeongo Line, which was built in the mid-1800s to provide access to the inner areas of Canada to settlers promised fertile land for farming (which eventually proved false but nonetheless resulted in roads great for riding).
These back roads go on forever with no traffic jams and no cars in sight for miles and miles. The roadsides are lush, green, rolling hills spotted with 18th century farms, small towns with homes of brick, limestone and clapboard with wraparound porches, well-kept lawns and lilac bushes as tall as the houses. Their sweet fragrance wafted over us as we wound our way around through towns with Irish, French and Algonquin names, evidence of the area's cultural diversity. Church spires reached high in every town, no matter how small. You could see them for miles, all incredibly beautiful, leading the way to the town of Wilno.
The first Polish settlement in Canada is commemorated by the unique heritage park and museum started by The Wilno Heritage Society, descendants of those first immigrants.
The park features several heritage buildings, and a museum full of beautiful artifacts and displays of pioneer life. Each May first, they host a huge festival to celebrate their heritage, which would be a great destination ride.
Our stop for the night was the newly remodeled Sands on Golden Lake Inn and Resort. Our rooms were clean, bright, and inviting, with a large window and sliding glass door opening to a balcony overlooking a green lawn that went down to the beach. The inn's restaurant had the same great view and our sumptuous seafood feast was enjoyed as the sun set on another great day of riding.
Morning came too soon for our longest day of riding. Our route took us out the Champlain Highway through Algonquin Park—Canada's first provincial park, most of which can only be accessed by canoe or on foot, offers a 56-kilometer ride along Hwy 60. From there you can access one of the eight campgrounds, hike one of the 15 trails or check out the Visitor Centre and Logging Museum. There are thousands of lakes and miles of canoeing trials connecting them, but along the highway you will view just a few of these beautiful lakes and waterways surrounded by tree-covered rolling hills. Riding through the park was peaceful with little or no traffic, and we found clean roadways and breathtaking views.
Our lunch break took us to the town of North Bay on Lake Nipissing where we stopped at Average Joe's. Average it was not, and we enjoyed another delicious seafood meal on a deck overlooking the lake—a great view to enjoy with our meal with the town's mayor, Al McDonald, who rode over on his Harley Ultra.
Later we rode along the Ottawa River to the Quality Inn in Petawawa for our overnight. We were met by members of the local C.A.V. (Canadian Army Veterans) group, who joined us for dinner at the nearby Kelsey's Restaurant. Between rinks and dinner a lot of riding stories were told and friends were made with that great bunch of guys.
The next morning it was back into Algonquin Park to hike the Barron Canyon trail. Fortunately, we got a bit of rain, which made it better for a hike than a ride. Dressed in hiking gear and armed with our cans of bug spray and bug blocker hats (and tucking our long pants into our socks), we went to battle the black flies. It was a short 10-kilometer drive to the canyon and an easy hike in to look down into the canyon to the river below. The rocks were slippery from the rain so it was a bit precarious at the edge to enjoy the spectacular view.
On the way back to the hotel after our hike, we treated ourselves with a quick stop at Colborne's Fish & Chips. It gave us our first taste of the local junk food called poutine—french fries covered in cheese curds and gravy. It sounds disgusting to the uninitiated, but was so good. We scarfed it down fast with guilty smiles on our faces.
Our last day of riding took us from Petawawa back to Ottawa and the Fairmont Chateau Laurier. This 100-year-old castle is host to dignitaries visiting the Canadian Parliament, which is right next door. This historic building made us feel just a tad under-dressed in our riding gear, but a hotel of this grandeur is exactly the way to end a perfectly wonderful trip.
Ottawa is a mix of the old and new, with many bars and restaurants filled to overflowing with tourists and students. A walking tour along Rideau Canal and the Byward Market, with its many street performers and vendors, led us to Sweetgrass, which offers an unusual menu of local aboriginal foods to tempt the palate, such as buffalo, elk and "bork," a mixture of pork and wild boar. It was a great way to end the ride with local foods and local art on the wall. With a final toast we bid farewell to the Ottawa Valley, a land of many cultures and untamed wilderness.
Planning my next trip to Ottawa, Ontario, will include many of the roads and stops that we enjoyed on this ride, but GoRideOntario.com will help you personalize your trip. The site has a specialized area just for motorcyclists, which enlists the expertise of local riders to help you plan the best trip possible. It has mapped-out routes, video guides and tips on touring, or you can plan your own ride with the tools and maps provided on the site … so you can make this special place "Yours to Discover."