photography by Kevin Wing
Many new bikes are awash in technical innovations. Today you can buy a motorcycle with keyless ignition that—by pressing a button—will reveal its tire pressures, tell you where to go, adapt its suspension and power output to conditions and toast your buns, all at the same time. It's all good stuff—at a price. What if you just want a bike? A good ol' motorcycle suitable for solo or two-up touring, sport touring, commuting, maybe even a little corner-carving; one that's excitingly fast, yet also comfortable, fun and unintimidating. A bike you can work on yourself, with a common-sense price tag and readily available tire types and sizes. Sure, gizmos are fun, but what if you just want to ride?
If so, the new Suzuki GSX1250FA on these pages is a good choice. It has just enough modern technology to make it power­ful, reliable and convenient, and styling updates for 2011 to keep it looking fresh. The bike's roots reach back to the air-cooled, carbureted 1997 Bandit 1200, which Suzuki completely revamped four years ago. Severing its link to the GSX-R1000, the 2007 GSX1250S (Rider, July 2007) received its own larger 1,255cc, DOHC in-line four with a strong emphasis on midrange grunt instead of high-rpm horsepower. Liquid-cooling and electronic fuel injection made it comply with stricter emissions regs, and a gear-driven counterbalancer dampened vibes enough that the engine could be solidly mounted in the 10 percent stronger frame. The transmission gained a sixth gear and hydraulic clutch, and the oil cooler became liquid-cooled for tough touring duty. Numerous changes to the ergonomics and running gear like an adjustable seat, suspension upgrades, stacked headlights and better brakes completed the 2007 update.
Fast forward to 2011 and besides the pretty black paint, what's new on the GSX1250FA? The "FA" for starters, which represents the new full fairing that gussies up the bike and increases wind protection around the legs. It might serve to redirect engine heat around them as well, though all of our testing was done in cool weather. Inside a new secondary fan supplements the cooling system. Anti-lock brakes are standard now, and a new instrument cluster with adjustable brightness surrounds the analog tach and large digital speedometer (which read about 8 percent high on our test bike). The comprehensive LCD display also has reserve mileage countdown, a fuel gauge, clock, dual tripmeters and gear position indicator. It's all useful to the daily or long-distance rider. Don't ask me why we also get a programmable shift light, except perhaps that the instrument cluster is from the GSX-R sportbikes.
With this engine's huge midrange, it could be fun to set the shift light to tell you when the engine is at its torque peak rather than warn of its 9,500-rpm redline. Except that the torque peak of 75.4 lb-ft occurs at just 3,800 rpm, and torque output at the rear wheel stays within 1 or 2 lb-ft of peak from just above idle all the way to 7,000 rpm. As such, the bike pulls hard and quickly almost all of the time, and is so smooth and quiet that you need to keep an eye on your speed or it will sneak up on you between corners. And if horsepower is a concern, while other sport-touring bikes may make more at the rear-wheel than the GSX1250FA's 98.7 at 8,800 rpm, they all weigh 80-100 pounds more than the 567-pound fully fueled Suzuki, too.
Throttle response is smooth and linear, like the dimmer switch on my lava lamp, and pulling in the clutch lever is the only thing you need to do besides pressing the starter button to ride off. Like our previous GSX1250S we did notice an inexplicable dip in the bike's horsepower and torque curves around 8,500 rpm, but it's not something you feel in the power delivery. If there's a weak area in the powertrain it's the gearbox, which shifts positively every time but is noisy and requires more effort than some comparable bikes. Cruising along at 70 mph the bike is turning just 3,800 rpm, the mirrors are dead clear and only a tiny bit of vibration creeps into the levers.
This helps make the FA quite comfortable for long rides, as does the tall tubular handlebar that gives it a mostly upright seating position. Legroom is plentiful, and the upper fairing and windscreen create a nice still pocket behind them from my waist to my neck. Suzuki offers a taller windscreen that I would very much like to try to see if it cuts down on the wind noise. As with virtually all of its predecessor models the key to passenger comfort on this bike is a backrest, since the copilot's footpegs are a tad high, so they and the rearward-sloped seat tend to rotate your copilot backward. Both seats are thickly padded but very hard, and it took more than 500 miles before I noticed the rider's starting to break in a little bit (or maybe it's just my butt). The front seat is adjustable up or down 20mm, though at 31.7 inches the low position is not particularly low to start with. Making the adjustment is a simple procedure that just involves flipping around the four rubber supports on the seat and unbolting a couple of brackets, though for some reason the owner's manual says to see your dealer to do it.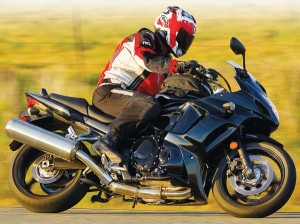 Maybe it's because this could be the only way to get you back into a dealer after buying this bike—its maintenance chores are stone simple, and except for the shim-under-bucket valve lash adjustment at 14,500 miles are mostly covered by the manual. Heck, divide 14,500 miles by three and you can just have the dealer do the valves and every third oil change. Getting at the battery is cake—it takes about 45 seconds to hook up an electric vest—and there's even a centerstand to simplify chain adjustments and tire R&R.
If we can pry a long-term GSX1250FA test bike from Suzuki, the first job I intend to tackle is improving the suspension. Although it has spring preload adjustment front and rear and rebound damping adjustability in back, even set at minimum preload the 43mm front suspension is set too harshly for all but aggressive riding, and the spring rate in back is too strong for lighter solo riders. Granted, Suzuki has addressed our complaints about the undersprung and underdamped suspension on the pre-2007 Bandit 1200, though it went a bit too far the other way on the GSX1250. As it stands the suspension does provide good control and compliance on bumpy, fast, twisting roads, and even two-up has a little spring leftover for the bike's generous 481-pound load capacity. At 210 pounds I can live with the back as-is, but the first thing I'd try if I bought one is some lighter fork oil.
Riding the big GSX in the corners the bike feels as stable, well-planted and predictable as it does on the highway. Thanks to its strong brakes, taut suspension and good Bridgestone BT021 sport-touring radials it's fun to hustle around in both tight hairpins and fast sweepers, though the bike is also big and slow-steering enough that after a large dose of tight bends you'll be ready for some open road. The 2007-era tubular-steel chassis and beefy cast-aluminum swingarm still hold their own against most sport tourers in this weight range, though the (more expensive) aluminum-alloy perimeter-framed machines like the Honda VFR1200F and Triumph Sprint GT inspire a bit more confidence coming out of corners on the gas.
Dual front discs with four-piston calipers and an adjustable brake lever make stopping the big Suzook a pleasure. The rear pedal offers similarly linear feel and strength, and together approach the standard for what brakes should feel like on a big sport-touring bike. It would be nice if the ABS was a bit smoother when it engages, but it works well and you probably won't be thinking about how smooth it is when you need it. The clutch lever is also adjustable and has good feel, though it's stiff enough that working it in traffic can get tiresome.
In addition to the centerstand, adjustable seat and levers, and the handy readouts on the instrument cluster, everyday niceties on the GSX1250FA include its generous five-gallon fuel capacity, which can deliver well over 200 miles on 87 octane. Soft luggage is easily fitted on the metal tank and rear seat, and Suzuki offers a set of locking side cases and a top trunk for the GSX1250FA. A pair of helmet hooks and a toolkit reside beneath the locking seat.
If we can expect a major redesign of this bike every four years, what's our wish list for 2015? A fairing pocket or two, and taller windscreen standard. Handlebar-mounted controls for the instrument cluster. More suspension adjustment range, maybe a remote rear shock preload adjuster. That's it. Did I ask for a trip computer? No. Keyless ignition or traction control? No. Besides its versatility, the GSX1250FA's strong suits are its simplicity and low price. If you want more bells and whistles, they're out there. If you just want to ride, here's your bike.
2011 Suzuki GSX1250FA Specifications
Base Price: $11,599
Warranty: 1 yr., unltd. miles
Website: Suzuki
Engine
Type: Liquid-cooled, transverse in-line four
Displacement: 1,255cc
Bore x Stroke: 79.0 x 64.0mm
Compression Ratio: 10.5:1
Valve Train: DOHC, 4 valves per cyl.
Valve Adj. Interval: 14,500 miles
Fuel Delivery: 36mm dual throttle valve EFI x 4
Lubrication System: Wet sump, 3.7-qt. cap.
Transmission: 6-speed, hydraulically actuated wet clutch
Final Drive: O-ring chain
Electrical
Ignition: Digital transistorized
Charging Output: 400 watts @ 5,000 rpm
Battery: 12V 10AH
Chassis
Frame: Tubular-steel perimeter w/ box-section aluminum swingarm
Wheelbase: 58.5 in.
Rake/Trail: 25.3 degrees/4.1 in.
Seat Height: 31.7/32.5 in.
Suspension, Front: 43mm stanchions, adj. for spring preload w/ 5.1-in. travel
Rear: Single shock, adj. for spring preload & rebound damping w/ 5.4-in. travel
Brakes, Front: Dual floating discs w/ opposed 4-piston
calipers & ABS
Rear: Single disc w/ 1-piston pin-slide caliper & ABS
Wheels, Front: Cast, 3.5 x 17 in.
Rear: Cast, 5.5 x 17 in.
Tires, Front: 120/70-ZR17
Rear: 180/55-ZR17
Wet Weight: 567 lbs.
Load Capacity: 481 lbs.
GVWR: 1,048 lbs.
Performance
Fuel Capacity: 5.0 gals., last 1.0 gal. warning light on
MPG: 87 PON min. (high/avg/low) 39.9/37.6/35.5
Estimated Range: 188 miles
Indicated rpm at 60 mph: 3,200