Classic Motorworks, the official importer and distributor of Royal Enfield motorcycles in the United States, just announced the arrival of the 2010 Royal Enfield Bullet model line.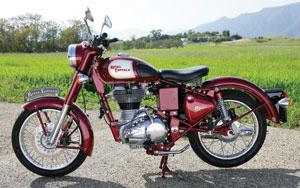 "Today begins a very notable new model year for Royal Enfield in the United States," said Kevin Mahoney, president of Classic Motorworks and Royal Enfield USA. "The year marks the complete transition of Royal Enfield's production for the United States market to the Unit Construction Engine, Royal Enfield's unique new powerplant designed to offer the traditional appeal of a classic long-stroke "big single" engine along with modern technology for clean, reliable and maintenance-free operation. Disguised by the authentic vintage appearance of its ancestors, the newly enhanced Bullet line now boasts hydraulic lifters, a closed-loop electronic fuel injection system and a three-stage catalytic converter.
According to the company, new 2010 Royal Enfield Bullet motorcycles will begin rolling out to dealer showrooms in most markets this month, with model availability expected to follow later this spring for the brand's pending dealers in California.
The new 2010 model line will include a new version of the popular Bullet Military, continuing Royal Enfield's long-standing tradition of building mainstream versions of its military contract motorcycles for western consumers. The 2010 Royal Enfield Bullet Military has been redesigned to match the acclaimed postwar-inspired form factor of the brand's popular new Bullet C5 model. More information related to models, specs, and availability can be found online at the company's website at www.enfieldmotorcycles.com.