photography by Scott Hirko
Test motorcycles come and go here frequently, except certain models we have trouble letting go. Our shop will only hold so many, but we'll often reserve a little long-term space for bikes like the Kawasaki Ninja 650R. We've had four of these middleweight, liquid-cooled, DOHC, fuel-injected, parallel-twin sportbikes in the Rider stable since the motorcycle's introduction in 2006, as we're quite happy to supply room and board in exchange for its reliable, tackle-any-paved-road, sporty nature. Sometimes the bike is neglected for something flashier and sits for a while, but when the interloper departs, the faithful 650R starts up instantly and is immediately ready to ride.
For 2009 the 650R received some changes, including new styling, rubber rear engine mounts and footpegs to smooth out the ride, and a digital dash. For 2010 the bike remains unchanged, and its going rate is $7,099.
"Ninja" may be synonymous with "hell-for-leather" when it comes to motorcycles, but this model with its upright seating position and mild-mannered disposition is a tame member of the Ninja family. Our 2006 test bike made 62.1 horsepower at 9,000 rpm and 41.5 lb-ft of torque at 7,250. Its mellow power delivery and weight are ideal for newbie riders who also aren't likely to outgrow it quickly. This made it the perfect bike for Rider Art Director Jody, who'd just completed the MSF course in 2007, and spent much of her new-in-the-saddle time on 650R Ninjas. It was a good motorcycle for her to learn to maneuver a bike at slow speeds and balance it at stops. The manageable power didn't intimidate our novice rider, and the clutch lever's broad friction zone made it less likely to lurch bike and rider into another dimension. At 30.9 inches the seat isn't particularly low, but the bike's compact engine helps keep it exceptionally narrow so your legs make a beeline straight to the ground. All this adds up to a user-friendly motorcycle for first-timers with enough punch to satisfy experienced riders.
While its ergonomics and power are temperate, the 650R's brakes are bold, stopping the 448-pound fully fueled bike instantly with a light pull of the lever. Kawasaki didn't scrimp on the petal disc brakes on this bargain machine. The Bridgestone Battlax sport-touring tires are a great fit for the bike, held fast to all pavement conditions we encountered, and didn't wander when running over pavement seams. The Kawi's offset single shock is adjustable for spring preload only and the 41mm fork up front offers no adjustments. The ride is a bit rough on the highway, and pavement irregularities are transferred to the rider. Some buzziness also comes through the pegs and seat that seems to vary in intensity among lighter and heavier riders. Seating position is upright and comfortable, though the seat could use more padding for long distances. The windscreen does a good job keeping windblast off the rider's chest, though you do feel it at helmet level. Legroom for long-legged riders like me is somewhat cramped, though shorter-inseamed riders had no complaint.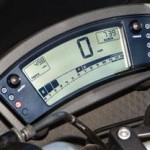 Once you get to the twisties, the niggles are forgiven as this is where the 650R excels. You can toss the Ninja into a tight turn with little effort and it will change direction easily and stay on course. The high handlebar gives you great leverage for steering the bike where you want it. Shifting through the gears is smooth as silk, though we did have trouble locating neutral at stops.
The Ninja has an uncluttered look with its underslung muffler, brief fairing and integrated turn signals. The styling is what attracted 6-foot, 185-pound Rider reader Eric Cooper, who bought a new 2008 650R as his first bike. He uses it for commuting, and spends time in the canyons on weekends with his 6-foot girlfriend riding pillion (with only Cooper to hang onto, he notes, as the 650R lacks passenger grabrails). Even though he's not mechanically inclined, Cooper has found it easy to work on, and has made it "even more perfect" by putting on a lower handlebar for more aggressive riding, a new exhaust and windscreen, and stainless-steel braided brake lines.
The Ninja 650R successfully combines relaxed ergos, stability and good fuel economy (45.5 mpg), despite our test bike's ridiculously pessimistic fuel gauge that indicates low fuel way too early. Nevertheless, its perfect balance of power and torque is going to make it especially hard to say good-bye when the Ninja finally goes home to Kawasaki.
2009 Kawasaki Ninja 650R Specifications Chart:
Base Price: $7,099 (2010 model)
Website: www.kawasaki.com
Engine Type: Liquid-cooled, transverse parallel twin, DOHC, 4 valves per cyl.
Bore x Stroke: 83.0mm x 60.0mm
Displacement: 649cc
Transmission: 6-speed, cable-actuated wet clutch
Final Drive: O-ring chain
Wheelbase: 55.3 inches
Rake/Trail: 24.5 degrees/4.0 in.
Seat Height: 30.9 in.
Wet Weight: 448 lbs.
Fuel Capacity: 4.1 gals., warning light on last 1.0 gal.
MPG: 87 octane min. (high/avg/low) 54.5/45.5/44.8