photography by Tom Riles and Nigel Kinrade
[This 2009 Star V Star 950 Tourer Road Test was originally featured in the February 2009 issue of Rider magazine]
Throw a leg over the saddle, lift the bike off the sidestand, settle into the commodious seat, turn the key, push the button-Baroom! Good sound, not too loud. Pull in the left lever, left toe snicks the gearbox into first, a little throttle while you let out the clutch, and smooth as a hot knife through cold butter you're away. Could be the start of a 30-mile commute to work. Or cruising Main Street on Saturday evening. Or going to Grandma's house for Sunday lunch. Or heading to Mount Rushmore a thousand miles away. That's what Yamaha's V Star 950 Tourer is for-easy traveling, short trip or long.
Looks good, too, with pleasantly flowing lines and handsome shiny embellishments. I especially like that headlight with the painted shell and the chrome enhancements. Styling sells cruisers, and the design department worked hard on this one.
The 950 is an all-new bike, based on old principles. The air-cooled, wet-sump, 60-degree V-twin has an almost square bore and stroke of 85mm x 83mm; for a capacity of 942cc. A chain-driven single overhead camshaft operates four valves in each cylinder, using roller rocker arms-which operate a little more efficiently than the sliding types many engines use. Lightweight aluminum pistons slide up and down in ceramic liners, with a compression ratio of 9.0:1. Mikuni fuel injection runs regular gas through 35mm bores, the Transistor Controlled Ignition sparks the plugs, and the spent gases flow out through a two-into-one exhaust. The multisensored fuel-injection system has a sensor placed in the header pipe just before it goes into the muffler to make it easier to change mufflers, should the rider be so inclined. And in the cruiser crowd, people are often motivated to buy aftermarket mufflers, either for a new look or, perish the thought, more noise. On the Jett Tuning Dynojet dyno the V Star 950 cranked out 47.3 horses at 5,800 rpm at the rear wheel, and 56.1 lb-ft of torque at 3,200 rpm.
Primary drive is by helical-cut gears, through a cable-actuated clutch and five-speed gearbox, and a belt final drive. I was impressed with the light clutch and smooth flow of power, minimizing any risk of stalling when starting up. On the mountain roads that all motorcyclists love to ride, climbing and descending with lots of tight curves to be rounded, a pleasantly torquey motor makes such byways great fun. Changing gears is still necessary, but minimized thanks to the low-rev grunt of the engine. The transmission has very smooth shifting, and never missed a gear.
This powertrain, sitting in a double-cradle frame, is solidly mounted. Despite not having a balancing shaft in the engine, the vibes off the single-pin crankshaft are minimal, and even quite pleasant for the cruising rider who is not interested in the redline and maximum lean angles, just enjoying the gentle throb. There is no tachometer, but a big speedometer is mounted on the gas tank, along with the requisite warning lights and a "multi-function meter unit" which can do a diagnosis should the engine have problems. Star has conveniently put select and reset buttons for the minimalist computer up on the right handlebar, so if you leave the gas station and realize you have not reset the tripmeter, you don't have to take your hand off the bar in order to move it back to zero. Little touches like this can endear a rider to his ride.
At the front is a 41mm Kayaba fork with 5.3 inches of travel; at the back, a single Soqi nitrogen-charged shock with 4.3 inches of travel. The shock has nine different preload settings, and a tool is included for the job, which can be done after taking off a side panel. This is not very convenient and I would have found it preferable to use one of those little round adjusters which can be turned by hand, especially on a tourer such as this.
Good-looking, eight-spoke cast wheels are at both ends, with a 130/70 x 18-inch tire on the front, a 170/70 x 16 at the back. Rather than be exotic, with bizarre shapes connecting the hub with the rim, the wheel designers decided to make them look almost like a wire-spoked wheel, and they have done a good job without the misery of tube-type tires. Each wheel has a single disc brake, and since this is not a dive-into-the-corner-hard-on-the-brakes sportbike, the brakes work more than adequately. Wheelbase is 66.3 inches, and the wet weight for the touring model, including 4.4 gallons of gas in the tank, is 660 pounds, which is par for the middling-sized cruisers. Average fuel consumption was about 41 mpg, with a high of 47 mpg. That can mean a safe range of more than 200 miles' always leave that last half gallon for real emergencies. The low-fuel light goes on with 0.8 gallons left.
Maintenance is straightforward. Oil changes and valve clearance checks every 4,000 miles; a new filter every 8,000; and a new oil-coated paper element in the air cleaner every 24,000 miles.
On the 950 the handling is quite good, very light, very easy. Rake of 32 degrees and trail of 5.7 inches provides a nice compromise between quick steering, useful on the hairpin curves, and in-line stability, good to have at 90 mph. Because of the easy power and handling, Star is advertising this as a good bike for both relatively new, as well as experienced, riders. And for the short-legged rider as well, with a very low seat height of 26.6 inches. Plus the forward part of the rider's seat is narrow, making it even easier to put both feet on the ground. That is an important consideration, as 660 pounds are hard to pick up if the bike falls over in a slippery gas station.
Star makes a lot of claims about the saddle, and the engineering that went into it. However, it seems they may have skimped on padding to get the seat so low, and my butt was a mite pained after several hours on the road. I would opt for the Comfort Cruise accessory seat. Ignoring the saddle, the ergonomics are quite comfortable, with long floorboards allowing for the legs to be moved back and forth, a heel-and-toe shift mechanism, and a wide 1-inch handlebar-over a meter from tip to tip. The overall design is very appealing, a 21st-century approach to the "classic" cruiser lines. The gas tank is nicely tapered, with a chromed cover housing the speedometer and warning lights. Modest but efficient steel fenders provide a healthy look, and the wheels have a pleasantly airy appearance about them. Rather unsightly are the fluid reservoir and horn down by the brake pedal-they look like last-minute add-ons.
The Tourer comes with a short windscreen, a pair of leather-covered hard bags and a backrest for the passenger. Aware that the cruiser buyers love to "personalize" their motorcycles, the Star line has almost 90 accessories available for the 950, from shiny "bling" to different saddles, a luggage rack and, of course, clothing. Marketing people say that the average cruiser purchaser will spend well over a thousand dollars on accessories before even leaving the shop, and Star means to take advantage of that. The full Star accessory catalog runs more than 200 pages and offers everything from braided-steel brake lines to golf balls-I kid you not!
To take a trek all you have to do is throw a change of clothes and a toothbrush in the saddlebags, which have a wide opening at the top and are easy to pack. They close with ease and use the ignition key to lock-very convenient.
No rain riding, so I cannot say whether or not they are waterproof. I keep the water bottle in the left bag, as the right bag heats up a bit with the muffler being close underneath. I like the short windscreen because I want to look over the top, rather than through it. The owner does have accessory windscreens to choose from.
Out on the highway the 950 loafs along at 60 mph effortlessly. Want speed? The speedometer needle is at the 90 mark in the twinkling of an eye after I shift down to fourth and turn the throttle. On the narrow twisting backroads the floorboards touch down easily if I am overly enthusiastic, but the boards do flip up. And where they touch is a small changeable bit of non-sparking metal, so the boards can be made to look new at minimal cost.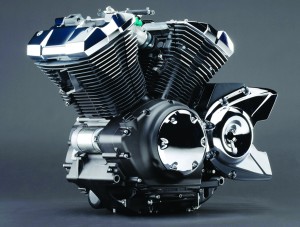 On the bumpy roads the suspension was OK, but not great. But that is in the nature of the cruiser…it is intended for easy going, not rough. Star has done a good job in putting together a well-functioning motorcycle, one that will make a perfect platform for personalization. Perhaps that is the key to cruiser ethos, allowing the owner to make his own machine exceptional in appearance.
This midsize is a hard-fought section of the market, especially among the Japanese players. There's the Honda 750 Shadows, the Suzuki 805cc Boulevards, and the Kawasaki Vulcan 900s—not to mention Harley's 883 Sportsters and Triumph's 865 Speedmaster and America models.
In the American market perhaps the most important factor will be price. This new model comes either as the standard V Star 950, for $7,890, or the trip-equipped V Star 950 Tourer for $8,990' which was our choice to test as Rider appreciates touring motorcycles. The price is competitive, but more importantly one needs to evaluate the feel and look of the machine. The V Star 950 Tourer does everything well and its price point is very good, so if you like the look you really can't go wrong.
2009 Star V Star 950 Tourer Motorcycle Review Specifications Chart
Base Price: $8,990
Warranty: 1 yr., unltd. miles
Website: www.yamaha-motor.com
Engine
Type: Air-cooled, transverse 60-degree V-twin
Displacement: 942cc
Bore x Stroke: 85.0 x 83.0mm
Compression Ratio: 9.0:1
Valve Train: SOHC, 4 valves per cyl.
Valve Adj. Interval: 4,000 miles
Fuel Delivery: Mikuni Electronic
Fuel Injection w/ TPS & 35mm throttle bodies
Lubrication System: Wet sump, 4.25-qt. cap.
Transmission: 5-speed, cable-actuated wet clutch
Final Drive: Belt
Electrical
Ignition: Transistor-Controlled Ignition
Charging Output: 461 watts @ 5,000 rpm
Battery: 12V 11AH
Chassis
Frame: Tubular-steel double cradle w/ box-section steel swingarm
Wheelbase: 66.3 in.
Rake/Trail: 32 degrees/5.7 in.
Seat Height: 26.6 in.
Suspension, Front: 41mm stanchions w/ 5.3-in. travel
Rear: Single shock, adj. for spring preload w/ 4.3-in. travel
Brakes, Front: Single disc w/ 2-piston pin-slide caliper
Rear: Single disc w/ 1-piston pin-slide caliper
Wheels, Front: Cast, 3.50 x 18 in.
Rear: Cast, 4.50 x 16 in.
Tires, Front: 130/70-18
Rear: 170/70-16
Wet Weight: 660 lbs.
Load Capacity: 416 lbs.
GVWR: 1,076 lbs.
Performance
Fuel Capacity: 4.4 gals., last 0.8 gal. warning light on
MPG: 87 Octane Min. (high/avg/low) 47/40.9/37
Estimated Range: 180 miles
Indicated rpm at 60 mph: NA