photography by Kevin Wing
[This 2008 Suzuki GSX650F Road Test was originally published in the March 2008 issue of Rider magazine]
If you're going to commute on a motorcycle in 38-degree temperatures, it may as well be on a bike you really like riding. That's been my scenario this past week, since winter has come to Southern California. I know, some of you will call me a wimp as 38 degrees is balmy compared to other parts of the country, but it's downright chilly for me. My commuter and faithful riding companion for the past month has been the new-for-'08 Suzuki GSX650F, a great bike with a flexible engine that delivers a smooth ride. Then when temps dropped, I discovered just how effective the full fairing and windscreen are at keeping the chill away from the rider.
Suzuki has outfitted its entry-level GSX sportbike with styling elements from its hypersonic 2007 GSX-R1000, such as the instrument cluster and vertically stacked headlight. The well-recognized blue-and-white-with-red-stripe color combination shown here is lifted from the Gixxer line as well–seen as a plus for you GSX-R fans. Though maybe not such a plus for potential first-time buyers who could be driven away because they don't want something as intimidating as a GSX-R. But a GSX-R the GSX650F is not, with its more comfortable ergonomics, longer wheelbase and narrower rear tire. The GSX outweighs the smallest Gixxer (600cc) by more than 100 pounds, yet the trade-off is almost all-day comfort with its upright seating position, good footpeg-to-seat position and perfect handlebar layout. I say "almost" because the wide, one-piece seat could use a tad more padding for those longer stints in the saddle. The seat is roomy enough and shaped well enough that you can move your bottom fore and aft, rather than being "locked" into one position.
Most of Suzuki's middleweight in-line fours have evolved from GSX-R engines, and the GSX's is not likely an exception, even though Suzuki says it's all-new. The liquid-cooled, DOHC, 16-valve, four-cylinder 656cc engine has bore and stroke figures of 65.5 and 48.7mm and features Suzuki's Dual Throttle Valve system with electronic fuel injection that has compact, lightweight four-hole injectors. The EFI system requires no fast-idle control, and the bike starts up instantly on those 38-degree mornings and can be ridden away immediately. Overall throttle response is good with power there when you need it, though there's a minuscule hesitation when getting on the throttle powering out of uphill turns. Suzuki says cam profiles are chosen with an emphasis on low- to midrange power that's well suited for entry-level riders, though this bike will keep more than novice riders happy with its 73.3 horsepower and 42.0 lb-ft of torque at the rear wheel we found on the Borla Performance Dynojet dyno.
The GSX's semi-slim shape disguises its true rider comfort. The handlebar positions your arms in a natural way that puts little or no pressure on your wrists and shoulders. The easy reach to the controls allows for good grip leverage, whether it be for straight-line riding on the highway or steering through turns. The tank and fairing are sculpted to allow your legs to "hug" the tank so you feel connected to the bike. The footpegs are positioned relatively low, and even long-legged riders have room to spread out without banging our knees into the fairing. The steel tank accommodates a magnetic tankbag, and our 'bag stayed parked in place for hundreds of miles without moving around, presumably because the windscreen does a great job directing airflow up and over it and the rider. We'd like to see a better system for strapping a seatbag to the decent-sized passenger seat. There are two 1-inch knobs attached to the passenger grabrail to hook on bungee cords, but then it's a stretch to the next closest attachment, the passenger footpeg brackets. These "knobs" remind me of the ones that stick out of Frankenstein's neck and don't inspire much confidence in keeping a seatbag on securely.
The GSX keeps its cool with a 190mm electric cooling fan controlled by the ECM and a high-output water pump. The engine heat that reaches the rider's legs is minimal, again, partly because of that wonderfully effective fairing. If you drop the bike and damage the one-piece plastic (or "undercowling" as Suzuki calls it), it'll set you back around $293, which is a quite reasonable price. The low-set four-into-two-into-one exhaust pipe's heat stays away from the rider as well. The exhaust system uses a high-capacity catalyzer and oxygen sensor to meet emissions requirements, while helping to provide strong performance throughout the rev range. Engine vibration is kept at a minimum, too, and the little vibes that come through are not bothersome.
When you get to the twisties, the agile and balanced GSX is a hoot. For those who like to lean, you can get some good use out of the sides of the Bridgestone tires because the 5.3-inch ground clearance and well-positioned footpegs give it lots of cornering clearance before parts start to scrape. The Battlax radials, a 120/70 front and a 160/60 rear, grip well. If you've ridden one of the GSX-Rs before, you'll feel the GSX's extra 100-plus pounds when changing direction quickly; if not, you're none the wiser and just forget we mentioned it here! Flicking through the six-speed transmission is smooth going, and I never hit one of those "false neutrals." We also never had trouble finding neutral at stops. It's one of the easiest bikes to match engine speed to lower gears when downshifting, so there's no jerkiness. Feel at the lever from the hydraulic clutch is light, and the foot shift lever is set up well to accommodate even my thicker riding boots.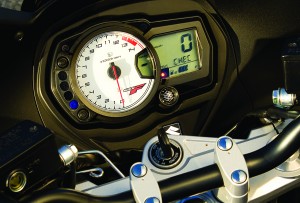 The GSX's link-type rear suspension is seven-way adjustable for preload and rebound, and it's ramped so the rider can make changes by the side of the road. The spanner wrench you'll need is in the toolkit under the locking seat that's just a half-turn away with use of the ignition key. Under the seat you'll also find two helmet holders and an owner's manual. The single shock came set up from the factory in the third position, a good setting for most of our riders, and does a fine job soaking up bumps and other pavement irregularities. It also does a good job in the twisties keeping the bike steady, planted and on course. In contrast, the telescopic 41mm fork is preload-only adjustable and the rider feels every little bump in the front. So here's where I had trouble: On one heavily potholed tight, twisty road the front end bounced around to the point of feeling disconcerting. Solution: Slow down. There was no hurry to get to the top to enjoy the view, which is why I'd chosen that road in the first place. Then find a road in need of less repair. That was the extreme because, overall, the GSX accommodates a variety of riding conditions. If you want fully adjustable suspension you can spring for one of the GSX-R models, starting at $2,400 more than the GSX.
While I'm whining about the fork, let me also point out that the GSX's front dual hydraulic disc brakes with four-piston calipers could use more bite. If this were my bike, I'd throw some DP Brake pads in there. Out back is a single disc with a single-piston caliper. The instrument cluster has an array of goodies including low-fuel warning and a clock, and its combination of a digital screen indicating gear position and mph and a white analog tachometer light up red, making for an easy read. Our test bike averaged 45.7 mpg on the 4.9-gallon (49-state bikes get five gallons) tank.
Our readers are constantly asking for a solid performing, comfortable bike on which they can commute, tour and occasionally carry a passenger, all for a price more reminiscent of the 1980s than 2008. Well, here it is. And if you don't like the GSX650F's blue/white racer graphics, just ignore them, or go for the black/silver–or heck, you can always paint it!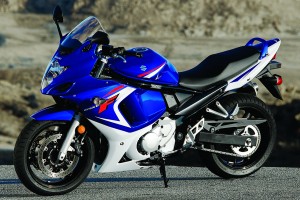 2008 Suzuki GSX650F Review Specifications Chart
Base Price: $6,999
Warranty: 12 mos., unltd. miles
Website: www.suzukicycles.com
Engine
Type: Liquid-cooled, transverse in-line four
Displacement: 656cc
Bore x Stroke: 65.5 x 48.7mm
Compression Ratio: 11.5:1
Valve Train: DOHC, four valves per cyl.
Valve Adj. Interval: 14,500 miles
Fuel Delivery: EFI w/ Suzuki Dual Throttle Valve
Lubrication System: Wet sump, 3.2-qt. cap.
Transmission: 6-speed, cable-actuated wet clutch
Final Drive: O-ring chain
Electrical
Ignition: Digital/Transistorized
Charging Output: 400W @ 5000 rpm
Battery: 12V 8AH
Chassis
Frame: Tubular-steel double cradle w/ box-section cast aluminum swingarm
Wheelbase: 57.9 in.
Rake/Trail: 26 degrees/4.25 in.
Seat Height: 30.3 in.
Suspension, Front: 41mm stanchions, adj. for spring preload w/ 5.1-in. travel
Rear: Single shock, adj. for spring preload & rebound damping w/ 5.0-in. travel
Brakes, Front: Dual floating discs w/ opposed 4-piston calipers
Rear: Single disc w/single-piston caliper
Wheels, Front: Cast, 17 x 3.50 in.
Rear: Cast, 17 x 5.00 in.
Tires, Front: 120/70-ZR17
Rear: 160/60-ZR17
Wet Weight: 532 lbs.
Load Capacity: 473 lbs.
GVWR: 1,005 lbs.
Performance
Fuel Capacity: 5.0 gals., last 1.5 gal. warning light on (CA model 4.9 gal.)
Average mpg: 45.7
Estimated Range: 228 miles
Indicated rpm at 60 mph: 6,000
If you're interested in the 2008 Suzuki GSX650F, you may also be interested in nine additional middleweight motorcycle reviews and spotlights from Honda, Kawasaki, Suzuki, BMW and Triumph.